Frequently Asked Questions By Kidney Failure Patients
2015-09-16 09:01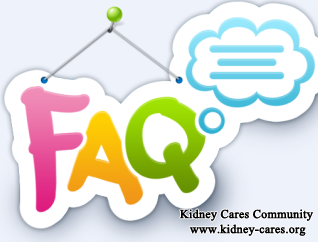 If you have been diagnosed with kidney failure, you probably have a lot of questions. Here are some questions and answers to kidney failure.
1. What factors can aggravate kidney failure?
Some factors can make conditions worse. If these factors can be eliminated, medical conditions can get alleviated or stabilized. Common factors include infection, high blood pressure, electrolyte disorder, hypovolemia, urinary tract blockage, acidosis, renal toxic medications, too much protein intake and congestive heart failure.
2. What complications will kidney failure cause?
Fluid, electrolyte can acid-based balance can become imbalanced. Patients are easy to suffer from hyperkalemia and metabolic acidosis. Cardiovascular disease is the most common complication of kidney failure. 50% uremia patients die from cardiovascular disease. Anemia will become worse and worse with the decline of kidney function. Besides, chronic kidney failure can also result in complications of neuromuscular system including uremic encephalopathy, uremic peripheral neuropathy and neurological illnesses.
3. What measurements can be taken to prevent the progression of kidney failure?
Measurements to slow down the progression of kidney failure include the following aspects:
Eliminate risk factors to worsen kidney failure
Treatment against etiology
Low protein and phosphorus diet
Control high blood pressure timely
Reduce high filtration of kidney tubules
Remove toxic accumulation in the body
Early treatment for chronic kidney failure plays an important role in slowing down the progression of kidney disease. As for patients in middle and late stage of kidney failure, dietary therapy and medical treatment can alleviate symptoms, delay dialysis and improve patients' life quality.
If you have any question about kidney failure, you can leave us a message below or send an email to kidneycares@hotmail.com. We will try our best to help you.