How to Prevent Kidney Failure from Worsening
2014-09-01 08:02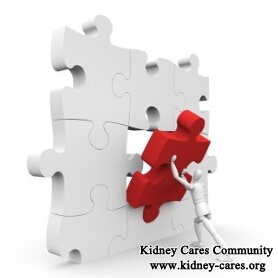 Kidney is an important organ which maintains the normal function of body. When your kidneys fail to work, you may have to make use of dialysis to prolong your life. How to prevent kidney failure from worsening? Many kidney patients concern about such a question.
First, what causes kidney failure?
-Hypovolemia. It can cause the decrease of GFR, worsening kidney function impairment.
-Infection. Patients with hypoalbuminemia and patients who use immunosuppressants for long-term often have poor immune system, so they are easily attacked by bacteria and virus, leading to infection. Severe infection can trigger acute interstitial nephritis. In order to inhibit infection, nephrotoxicity drugs sometimes may be used. All these can increase damage to the kidneys.
-Overwork. Kidney patients should have a good rest. Traveling, working hard or doing strenuous exercise can make you feel extremely tired and speed up the progression to kidney failure. Besides, mental factors play a role in such progression.
-Nephrotoxicity drugs, such as certain antibiotics, NSAIDS and X-ray contrast agents.
-High blood pressure.
-Hyperlipemia, hyperglycemia, hypercalcemia and hyperuricemia.
-Long-term proteinuria, urinary obstruction and pregnancy.
Second, how to prevent kidney failure from worsening?
Since we have known what causes kidney failure, we should avoid the above factors and receive treatment aggressively. If you have been fed up with the treatment of western medicine, you can try our particular Traditional Chinese Medicine therapies. It mainly includes four aspects: Mai Kang Mixture, decoction, foot bath and Micro-Chinese Medicine Osmotherapy. According to your medical condition, we will adjust the herbs in these therapies. All in all, they can draw out toxins from body, dilate blood vessels, block blood clotting, lower cholesterol level, reduce high blood pressure, eliminate the immune complexes from the body, stop kidney fibrosis, etc. And then you may feel that your urine output increases, appetite improves, cold limbs become warm and full of energy. The indicators of kidney function such as creatinine, GFR and BUN will also change for the better.
If you would like to acquire a personalized treatment to prevent kidney failure from worsening, please feel free to contact online doctor. We are glad to help you.
Our Treatment Effect
High creatinine level is dangerous to a kidney patient
Move the mouse to enlarge the picture
If you also want to reduce your high creatinine level, please look at this patient's report. When he was just hospitalized in our hospital on Dec 11, 2018,
His creatinine:1028umol/L,
urea: 39.7mmol/L
UA : 513umol/L
After a period of our treatment,
his creatinine:331umol/L, urea:16.1mmol/L
UA :325umol/L on Jan 5, 2019.
His condition was getting better and better. You can also get better.
For a CKD patient, you can choose Chinese medicine treatments to control your condition. your creatinine level can be reduced radically, symptoms can be alleviated and more importantly, your renal function will be improved. In this way, you can stay away from end stage kidney disease and avoid dialysis.