How to Prevent End Stage Renal Failure
2014-08-26 03:50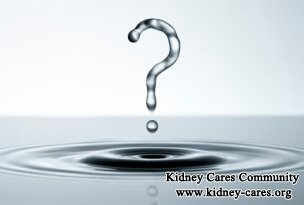 Chronic renal failure is classified into five stages. When your disease develops to end stage, you may have to do dialysis or wait for kidney transplant, which may affect your quality of life a lot. How to prevent end stage renal failure (ESRD)?
In the very early stage of kidney disease, there is hardly symptom, so it is not easy for people to detect it. When you find the disease, it may have developed to the advanced stage. What you should do first is to do a series of tests to have an accurate knowledge of your medical condition.
Find the underlying cause of your renal failure
Glomerulonephritis, diabetes and high blood pressure are the leading causes of renal failure. Besides, certain renal failure is caused by abnormal immune system like IgA Nephropathy and certain disease is caused by diseased genes like PKD. According to the type of your renal failure, you should take different measures, for example, to lower blood pressure or reduce blood pressure, etc.
Control the symptoms caused by renal failure
With renal failure, you may have edema, proteinuria, high blood pressure, anemia, etc. Western medicine can help you control the symptoms, for example, diuretics increase urine output and ease edema and steroids can inhibit kidney inflammation and decrease blood capillaries to reduce proteinuria. According to the symptoms, different medications are prescribed.
Repair the damaged part of kidneys and protect the remaining kidney function
Chinese medicine can make your whole body harmonious and balanced. Micro-Chinese Medicine Osmotherapy is to penetrate the micronized Chinese medicine into the kidneys by osmosis devices. This therapy can inhibit kidney inflammation, dilate blood vessels, block blood clotting and stop kidney fibrosis as well as provide essential nutrients. Besides, medicated bath, foot bath, circle therapy and enema therapy are also effective in treating kidney disease and improve kidney function.
Apart from the above, you should follow a renal-friendly diet, do exercise regularly, keep good mood and so on, which is also helpful in preventing end stage renal failure. For more information, please contact online doctor.