Are Pistachio Ok For Patients With ESRD
2015-11-02 05:35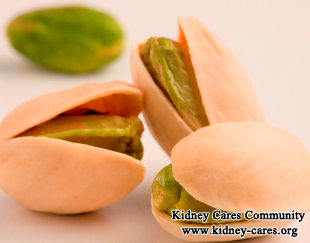 In addition to medical treatment, end stage renal disease (ESRD) patients are also concerned about their daily diet. Today one patient with ESRD consulted us about pistachio. Are pistachio good for ESRD patients?
Let's see what health benefits pistachio have.
1. Diabetes help
Diabetes is a leading cause of kidney disease. If you have diabetes, you should treat it timely. Eating pistachios can help prevent diabetics to control their blood glucose levels.
2. High blood pressure
Like diabetes, high blood pressure is another leading cause of kidney disease. Pistachios are a source of potassium and magnesium, two minerals that play a role in regulating blood pressure.
3. Boost immune system
For people with ESRD, immune system is usually affected and easy to overaction. Pistachios have adequate vitamin B6 which is responsible for a healthy immune system. Vitamin B6 also helps the body make healthy red blood cells and helps maintain the health of lymphoid glands, which is able to ensure the production of white blood cells that defend the body from infections.
4. Heart health
A healthy health is very important for a kidney disease patient. Pistachio is high in antioxidants such as vitamin A and E. They prevent inflammation, protecting blood vessels and reducing the risk of heart disease.
5. Constipation prevention
Constipation is often suffered by ESRD patients. Pistachios contain about 3 g of fiber, mostly insoluble fiber, which helps prevent constipation.
Pistachios can help relieve related symptoms of kidney disease to some extent. However, it does not mean all kidney disease patients can eat pistachio. Pistachios are relatively high in proteins, potassium and phosphorus. Doctors often recommend restriction of these nutrients to kidney patients. It is your doctor or our online doctor who can tell if you may eat pistachios. What's more, pistachios may increase the risk of calcium oxalate and cystine kidney stones. Therefore, always remember to consult your doctor or our online doctor before eating pistachios.
Our Treatment Effect
High creatinine level is dangerous to a kidney patient
Move the mouse to enlarge the picture
If you also want to reduce your high creatinine level, please look at this patient's report. When he was just hospitalized in our hospital on Dec 11, 2018,
His creatinine:1028umol/L,
urea: 39.7mmol/L
UA : 513umol/L
After a period of our treatment,
his creatinine:331umol/L, urea:16.1mmol/L
UA :325umol/L on Jan 5, 2019.
His condition was getting better and better. You can also get better.
For a CKD patient, you can choose Chinese medicine treatments to control your condition. your creatinine level can be reduced radically, symptoms can be alleviated and more importantly, your renal function will be improved. In this way, you can stay away from end stage kidney disease and avoid dialysis.