Can Patients On Dialysis Eat Kiwi Fruit
2015-10-23 16:31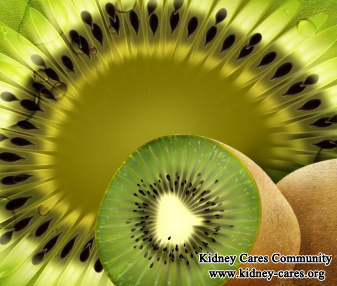 Can patients on dialysis eat kiwi fruit? Kiwis are a nutrient dense food and the possible health benefit consuming kiwi includes maintaining healthy skin, reducing blood pressure and preventing heart disease and stroke. In that case, is kiwi a good fruit for dialysis patients?
Actually there is no exact answer for a person's diet. As for kiwi fruit, if a person on dialysis has high potassium in blood, he had better avoid or at least reduce the intake of kiwi fruit. Kiwi fruit contains a high level of potassium. If patients with high potassium still consume kiwi and other foods with high potassium, it will be very dangerous because high potassium levels can cause irregular heartbeat, nausea, and a slow or weak pulse.
If a dialysis patient has no high potassium level, he or she can eat kiwi fruit properly and gets some health benefits from kiwi such as:
1. Prevent constipation
Most dialysis patients endure constipation. If you eat kiwi, it can help you reduce the risk for constipation to some extent. Studies have reported that kiwi may have a mild laxative effect and could be used as a dietary supplement especially for individuals experiencing constipation. Regular consumption of kiwi fruit was shown to promote bulkier, softer and more frequent stool production.
2. Heart health
Kiwi is a good source of dietary fiber. It can reduce high cholesterol level, which can reduce the risk of heart disease. Kidney dialysis patients may experience a series of complications such as cardiovascular disease. One kiwi each day can help reduce the risk of this complication.
Can patients on dialysis eat kiwi fruit? It depends on the specific condition of patients. You can send your illness condition to kidneycares@hotmail.com. We will tell you whether you can eat kiwi fruit or not.
Our Treatment Effect
High creatinine level is dangerous to a kidney patient
Move the mouse to enlarge the picture
If you also want to reduce your high creatinine level, please look at this patient's report. When he was just hospitalized in our hospital on Dec 11, 2018,
His creatinine:1028umol/L,
urea: 39.7mmol/L
UA : 513umol/L
After a period of our treatment,
his creatinine:331umol/L, urea:16.1mmol/L
UA :325umol/L on Jan 5, 2019.
His condition was getting better and better. You can also get better.
For a CKD patient, you can choose Chinese medicine treatments to control your condition. your creatinine level can be reduced radically, symptoms can be alleviated and more importantly, your renal function will be improved. In this way, you can stay away from end stage kidney disease and avoid dialysis.