How Do Kidney Failure Patients Control The Diet
2015-08-19 10:03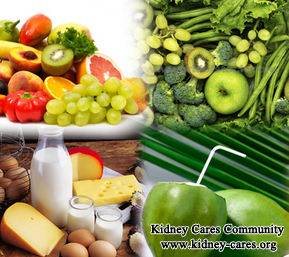 Diet regulation of kidney failure is an important part of the therapeutic principle. Dietary plan is a basic way of treatment. Well then, what should renal failure patients eat?
1. Avoid hard and fried foods
Due to toxic accumulation in the body and blood microcirculation disorder, kidney failure patients will suffer from bleeding of gastrointestinal mucosa. Hard and fried foods will hurt blood vessels in stomach, causing bleeding.
2. Avoid acrimony excitant food
Acrimony excitant foods will worsen gastric mucosal erosion so as to result in errhysis of blood vessels in stomach.
3. Consume high quality protein foods
Kidney failure patients need to limit protein intake so as to lighten kidney burden. The proper amount of protein should be 1-1.2g/kg bw/day. Common high quality protein foods include fresh milk, eggs and meat.
4. Intake enough calories
To avoid the generation of nitrogenous wastes caused by deficient calories intake, patients can eat more high calories but low protein foods such as plant oil (soybean oil, peanut oil), low protein starch and sugar.
5. Be careful with fluid intake
When you suffer from kidney failure and have decreased urine output, fluid will accumulate in your body, causing weight gain, swelling and polypnea, etc. Therefore, you should be very careful with fluid intake.
6. Prevent high potassium level
Since excess potassium cannot be discharged out of the body by damaged kidneys, hyperkalemia will occur, resulting in numbness of fingers and legs, irregular heartbeat or cardiac arrest. Insufficient dialysis, no appetite, constipation and high potassium food intake can all cause high potassium in blood. In diet, kidney failure patients should avoid high potassium fruits and vegetables like carrots, leafy green vegetables, banana, orange, mango and tomato, etc.
In addition to diet regulation, the most important thing kidney failure patients should do is to repair injured kidneys and improve renal function. They can have a try of Chinese medicine treatment. The active ingredients in Chinese medicines can come to kidney lesion directly and help repair impaired kidneys. Gradually kidney function will also be improved effectively and naturally. Only in this way can kidney failure be treated well.
Our Treatment Effect
High creatinine level is dangerous to a kidney patient
Move the mouse to enlarge the picture
If you also want to reduce your high creatinine level, please look at this patient's report. When he was just hospitalized in our hospital on Dec 11, 2018,
His creatinine:1028umol/L,
urea: 39.7mmol/L
UA : 513umol/L
After a period of our treatment,
his creatinine:331umol/L, urea:16.1mmol/L
UA :325umol/L on Jan 5, 2019.
His condition was getting better and better. You can also get better.
For a CKD patient, you can choose Chinese medicine treatments to control your condition. your creatinine level can be reduced radically, symptoms can be alleviated and more importantly, your renal function will be improved. In this way, you can stay away from end stage kidney disease and avoid dialysis.