Is Black Pepper Good for Renal Failure
2015-05-25 03:56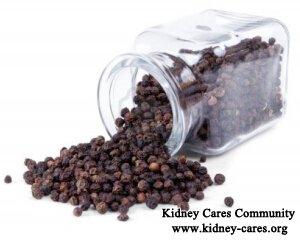 Black pepper contains many beneficial nutrients and compounds. It can not only be used for spicy, but also for medicine. Is black pepper good for renal failure?
Health benefits of black pepper
-Due to poor immune system, renal failure patients often catch cold, cough and some other infections. The antibacterial properties of black peppers can help you fight against those aliments.
-Black pepper helps in boosting metabolism in the body. It burns unwanted calories and helps in reducing belly fact. If you have weight gain problems, black pepper is a good choice for you.
-Not a few kidney patients have poor appetite. Black pepper stimulates the taste buds and increases the secretion of hydrochloric acid in the stomach, which in turn aids proper digestion.
-The piperine in black pepper enhances the bioavailability of various nutrients, such as vitamins, which can improve your overall health so as to help you fight against the disease.
-Black pepper may be also beneficial for other kidney problems, such as inflammation and swelling, because it displays properties such as diuretic, anti-inflammatory and antioxidant abilities.
If your renal failure is in advanced stage, you had better avoid black pepper intake because of the following reasons.
-Black pepper contains oxalate, which can contribute to the formation of kidney stones, because it binds to calcium in the urine under certain circumstances.
-Some contents of black pepper is considered harmful to a diseased kidney so as to worsen the symptoms of severe kidney disease.
Is black pepper good for renal failure? It is depending on the severity of kidney disease. If you want to get an accurate answer, please leave your basic information below. After analyzing your case, we will contact you. You can also send your medical test report to kidneycares@hotmail.com and then we can provide you with a comprehensive treatment plan.