Can Renal Transplant Patients Have Fenugreek Tea
2015-03-24 14:46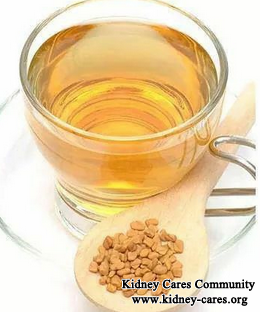 Fenugreek is an herb and it has also been used to treat arthritis, improve digestion, maintain a healthy metabolism, cure skin problems and lower blood glucose. We know kidney transplant patients should be careful about the food they eat. Well, can renal transplant patients have fenugreek tea?
Studies have found that fenugreek has some health benefits for people:
1. Treat diabetes
Diabetes can be a complication of kidney transplant. Studies have shown that participants with type 2 diabetes had significantly lower blood sugar levels after eating fenugreek seeds.
2. balance cholesterol level
People with high cholesterol level are more susceptible to heart attack, which is a major cause of death of kidney disease patients. To lower the risk of heart attack, people need to follow a food to lower cholesterol. People who have fenugreek seed each day can have a lower cholesterol level and decrease their risk of heart attack.
3. home remedy for fever
Kidney disease patients can experience fever. To treat fever, home remedy is much favored by patients. Consume one to two teaspoons of fenugreek seeds three times a day along with an herbal tea such as green tea can be helpful for reducing fever.
Although fenugreek tea has so many health benefits, it does not mean all kidney transplant patients can drink it. It should be used moderately. Moreover, it may also cause some side effects like nausea, diarrhea and gas. To be safe, you should have fenugreek tea only after consultation with your doctor.