Are Pears Good For Kidney Failure Patients
2015-03-20 01:34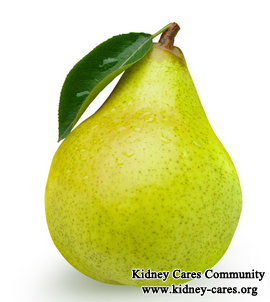 Are pears good for kidney failure patients? Kidneys are very efficient filtration organs. They are working silently for you, but without their continuous cleansing function, your blood would become so toxic you would die in a matter of days. Improper diet fluid intake can overtax the kidneys and cause miserable symptoms. The health benefits of pear are immense. Well, can kidney failure patients eat pears?
Generally speaking, pears are good for renal failure patients due to the following health benefits:
1. prevent high blood pressure
High blood pressure is a common complication of kidney failure. Without treatment, it may cause further kidney damage. Pears have anti-oxidant and anti-carcinogen glutathione which help prevent high blood pressure and stroke.
2. constipation
Due to strict diet and fluid intake, kidney failure patients are possible to experience constipation. The pectin in pears is diuretic and has a mild laxative effect. Drinking pear juice regularly helps regulate bowel movements. Constipation can be alleviated to some extent.
3. boost immune system
With strong immunity, you will have ability to fight against bacteria and virus. Pears have anti-oxidant nutrients to build up immune system. Thus, your disease has a lower risk to get relapsed.
4. increased energy levels
Kidney failure patients often feel fatigue and tired. When you eat a pear, your body absorbs glucose, which is converted into energy. Your fatigue and tiredness can be alleviated.
5. Control diabetes
Diabetes is a leading factor in kidney disease so it should be treated timely and properly. Pears are high in fiber and have a low glycemic index and they are a smart snack for those with diabetes. The bloodstream slowly absorbs a pear's carbs which prevents a spike in blood sugar and helps to control blood glucose levels.
From the above, we can pears are good for alleviating kidney disease symptoms. However, it does not mean patients can eat pears without limitation. If you want to know how much you can eat, you should consult our online doctor or leave a message below. We will tell you how much you can eat according to your medical conditions.