What Foods Should Kidney Failure Patients Avoid
2015-03-12 09:48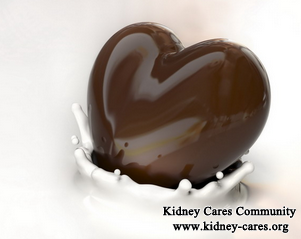 Spring has arrived and temperature is rising gradually, so people will have more and more outdoor activities. Many people begin to have picnic and get together with their friends. However, as for eating, people usually ignore the healthy dietary principles. This is very dangerous for people' health, especially for kidney failure patients. Let's see what foods should kidney failure patients avoid.
1. dairy with chocolate will cause diarrhea.
Calcium in dairy combining the oxalic acid in chocolate will form calcium oxalate which does not dissolve in water. After eating, human body cannot absorb this substance and some discomforts will be caused like diarrhea, dry hair. Besides, if calcium oxalate is consumed too much but no enough fluid can dilute and discharge it, stones are easy to occur. Calcium oxalate calculus is one of the most kidney stones.
2. Hami Melon with bananas will lead to kidney failure and worsen arthropathy.
Hami Melon and bananas cannot be eaten together. This is because the sugar level in Hami Lemon is 15% and potassium level is also really high. Bananas also have high potassium levels. Therefore, kidney failure patients with less urine output should not eat Hami Lemon and bananas at the same time so as not to worsen their medical conditions.
3. seafood and beer will lead to gout.
When you eat seafood and meanwhile drink beer, this will cause blood uric acid level rising obviously, triggering gout. This easily increases the risk of gouty nephropathy and gouty arthritis.
Kidney failure patients should stay away from unreasonable food collocation. Diet is an important part in the treatment of kidney disease, so kidney disease patients should pay more attention to their eating.
If you want to know more information about kidney disease diet and treatment, you can send emails to kidneycares@hotmail.com or consult our online doctor directly. We will try our best to help you.
Our Treatment Effect
High creatinine level is dangerous to a kidney patient
Move the mouse to enlarge the picture
If you also want to reduce your high creatinine level, please look at this patient's report. When he was just hospitalized in our hospital on Dec 11, 2018,
His creatinine:1028umol/L,
urea: 39.7mmol/L
UA : 513umol/L
After a period of our treatment,
his creatinine:331umol/L, urea:16.1mmol/L
UA :325umol/L on Jan 5, 2019.
His condition was getting better and better. You can also get better.
For a CKD patient, you can choose Chinese medicine treatments to control your condition. your creatinine level can be reduced radically, symptoms can be alleviated and more importantly, your renal function will be improved. In this way, you can stay away from end stage kidney disease and avoid dialysis.