Can Kidney Failure Patients Eat Watermelon
2014-12-29 02:08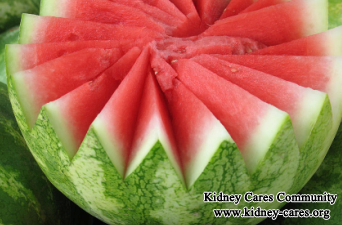 Can kidney failure patients eat watermelon? In hot summer, many patients have this doubt. Our renal experts will analyze this for you in the following article.
Is it ok for kidney failure patients to eat watermelon? The answer to this question is uncertain. Because it depends on patients' medical conditions. Generally speaking, if kidney disease people have no swelling, eating watermelon moderately is ok. If patients have obvious swelling, especially in nephrotic syndrome patients with severe edema, it is not allowed for them to eat watermelon. Because watermelon contains large amounts of fluid, this can worsen body edema. As for kidney dysfunction patients, if urine output is normal and patients have no swelling, eating less watermelon is also ok. However, if the disease has developed to uremia and patients have undergone dialysis, watermelon had better be avoided. Meanwhile, as for diabetic nephropathy patients, watermelon should be avoided because it contains lots of sugar. This tends to cause unstable blood sugar in diabetic nephropathy patients.
On the other hand, kidney failure patients also need to follow a diet with low sodium, high quality protein like egg white and lean meat. How much you can eat depends on your own medical conditions. Besides, patients with kidney failure should also avoid spicy foods, keep away from raw garlic and animal organs.
Diet precaution has a big help for the recovery from illness. If you have any question, you can consult our online doctor or leave a message to kidneycares@hotmail.com.