Can Kidney Failure Patients Eat Cantaloupe
2014-12-23 07:11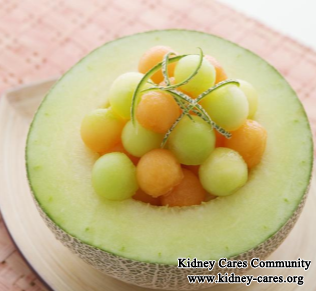 Can kidney failure patients eat cantaloupe? We know the sugar and potassium in cantaloupe is high. Cantaloupe is the most nourishing food. As for kidney failure patients, is it good for them to eat cantaloupe?
When chronic kidney disease develops kidney failure, since kidney's excretion and regulation ability are abnormal, oliguria or anuria will present in clinical. In this condition, there will be metabolic disorder in the body, especially potassium disorder. Due to anuria, potassium in the body cannot be discharged timely, then much potassium will accumulate in human body, causing hyperkalemia. Much potassium in the body can affect your heart. For example, people may suffer from bradycardia, ventricular fibrillation, and even heart arrest. Potassium in cantaloupe is extremely high. Every 100g cantaloupe contains about 250mg potassium. Because of declined glomerular filtration rate (GFR) and low renal tubular function, the ability of discharging potassium also decreases. Under such condition, if people eat high potassium foods, they are more likely to suffer from cardiovascular diseases. Therefore, kidney failure patients had better not eat cantaloupe.
If kidney failure patients have high potassium level in blood, they had better not eat cantaloupe. If not, people with renal failure can eat cantaloupe and get some health benefits including boosting immune system, preventing inflammation, regulating blood sugar as well as preventing oxidative stress to the kidneys.
You should eat cantaloupe according to your own medical condition. If you do not know whether you can eat cantaloupe or not, welcome leave a message below or consult our online doctor directly.