Is Chayote Good For High Blood Pressure Patients In Kidney Failure
2014-12-06 03:03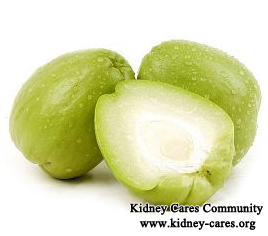 High blood pressure is a leading cause of kidney failure and it is also a common symptom in kidney failure. It is essential to keep blood pressure under control.. chayote is a gourd plant and it has multiple nutrients and has anti-inflammatory properties that can aid in the treatment of high blood pressure, kidney stones and indigestion.
1. How does chayote help lower high blood pressure?
Chayote can add to your DV of potassium, the mineral which helps lower blood pressure levels. Thus, kidney failure patients with hypertension can eat chayote properly. However, patients also need to limit the chayote intake if there is high potassium level in blood. Otherwise, it will worsen your illness condition and make you suffer from heart attack, irregular heart beat and stroke.
2. Chayote has other health benefits:
Prevent constipation
People suffering from constipation should add chayote to their diet in order to prevent bowel regularity. Fiber softens the stools by drawing water into them and making them smooth. Thus, it prevents constipation.
Protect heart
People in kidney failure are easily to suffer from heart disease. Folate decrease the homocysteine levels in the blood and thereby reduce the risk of coronary heart disease and stroke. A study shows that a higher consumption of folate decreases the risk of heart attacks or other heart diseases by 55%.
All in all, chayote is good for kidney failure patients. But you should know how much you can eat. If you do not know how much you can eat, please leave us a message below or consult the online doctor below.