Diet Precautions After Kidney Transplant
2014-11-29 15:45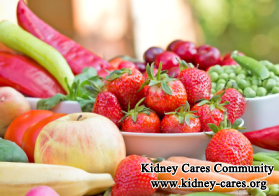 Kidney transplantation or renal transplantation is the organ transplant of a kidney into a patient with end stage renal disease. After kidney transplant, there is something for kidney transplant kidneys to pay attention to. Diet is one aspect. What are dietary precautions after kidney transplant?
1. Diet after one month of surgery
At this time, patients with kidney transplant need intake enough protein and calories to keep balance of nitrogen and promote the wound healing. This can also reduce the risk of infection. After the recovery of peristalsis, they can eat some liquid foods like rice soup, lotus root starch and egg flower soup. But do not drink milk too earlier to avoid stomach bloating. Then they can eat some semi-liquid food like noodles, steamed egg custard and black fish soup. Gradually, kidney transplant patients can have a diet like common people.
2. Diet during recovery
Without the close monitoring, patients will have a good appetite and quick weight gain. At this time, a long term of diet plan should be made.
1) water
Water intake per day should be over 2000ml.
2) salt
In the early stage of surgery, patients should limit salt intake. Generally, salt intake per day is 3-4 gram. After half of a year, salt intake at least is 6 gram.
3) Protein
Adults weighing 60 kilograms should consume protein 100-150 grams. Protein foods are mainly milk, egg white, lean meat and fish, etc.
4) carbohydrate
Rich and cooked wheaten foods are source of carbohydrate. The intake of carbohydrate should be about 300 gram per day.
5) fat
Cut back on fried foods and limit high cholesterol foods like animal organs. Kidney transplant patients had better eat plant oil food.
6) Calcium
Patients after kidney transplant can drink milk with high calcium and eat ribs.
7) avoid foods and health care products that can improve immunity
Patients after kidney transplant should avoid white fungus, black fungus, red jujube, mushroom, ginseng, astragalus membranaceceus, Dangshen, reishi and so on.
8) pay attention to food hygiene
Due to declined immunity, patients must choose some fresh and high quality foods. Avoid food spoilage.
Since each patient has different medical condition, there is no set of diet plan for kidney transplant patients. If you want to get your own diet plan, you can leave us a message to kidneycares@hotmail.com. We are glad to help you.