What Should Kidney Failure Patients Avoid In Their Diet
2014-11-22 02:24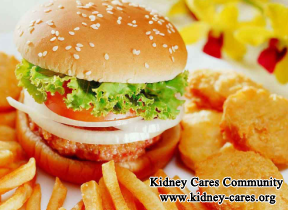 What foods should kidney failure patients avoid? The food you can eat has close relationship with our body health. Well, follow us to find a food list that should be avoided by renal failure patients.
1. Overeat
If you overeat, it will put a burden on kidneys. Many kidney diseases are a result of improper diet. Kidney is an important organ which is responsible for excreting wastes and toxins. If you eat too much, it will burden your kidneys. Kidneys are in a condition of high load for a long time, kidney disease will occur.
2. Salty food
Too salty foods are easily to cause high blood pressure. Hypertension is a systemic disease. High blood pressure and kidney disease are twin sisters. In recent years, the incident rate of kidney damage caused by high blood pressure is rising. Therefore, in daily life, we should follow a low sodium diet. The intake of salt per day should be 5-6gram.
3. Extremely sweet and greasy
If you eat extremely sweet or greasy food, it not only puts a burden on your kidneys, but also makes you fatty. Obesity will increase fat amount in kidneys. In addition, the weight, volume of kidneys will also be increased. Also glomerular will become large. Obesity patients will have insulin resistance and then diabetes will present. About 40% diabetes patients will experience diabetic nephropathy while this kind of kidney disease is one of the most difficult disease.
4. Too much protein intake
Too much protein intake will lead to elevation of blood uric acid concentration, causing hyperuricemia. The toxicity of high blood uric acid concentration on kidneys is very high. It is more likely to cause renal tubule and renal interstitium lesion. Eventually chronic kidney failure will occur, also called uremia.
What foods should renal failure patients avoid? The above is the introduction to the diet. Apart from diet, patients should take medical treatment timely.