Is Moringa Good For Patients On Peritoneal Dialysis
2014-11-20 06:35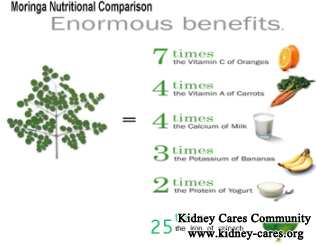 It could be said that without any doubt that from the moringa tree leaf we can get very good benefits for the health. Generally speaking, moringa sounds like magic. It can rebuild weak bones, lower blood sugar, reduce swelling, lower blood pressure and calm the nervous system. From this sight, moringa is good for patients on peritoneal dialysis.
Peritoneal dialysis patients can get some of the amazing benefits from moringa:
1. Boost immune system
With low immunity, people are easily be attacked by illness. Moringa is a natural defense of the body by boosting your immune system.
2. Anti-inflammatory property
People with kidney disease experience more inflammation than those without kidney disease. Moringa contain amino acids along with anti-inflammatory and antiseptic properties. Stopping inflammation is able to reduce further damages on kidneys, so dialysis patients can consume moringa to some extent.
3. Support the normal sugar levels of the body
High blood sugar level for a long time is more likely to induce kidney disease. It may cause further kidney damage and even worsen medical condition. Therefore, it is important to consume moringa so as to support the normal sugar levels of the body.
4. Reduce swelling
Swelling is a common complication of kidney disease. To alleviate swelling, moringa can reduce swelling. It is not only natural but also effective.
5. Prevent anemia
Anemia is a common complication in kidney failure and it worsens kidney condition directly. Moringa contains lots of iron, so regularly eating of moringa will help prevent anemia effective to some extent.
Although moringa has so many health benefits, not everyone with kidney failure can eat moringa. If kidney failure patients are with high potassium level and tight protein control, they should get the permission from their doctor before taking moringa since moringa is high in protein and potassium.