Can Oranges Be Consumed By Kidney Failure Patients
2014-11-18 06:52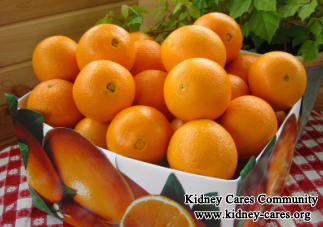 Can kidney failure patients eat oranges? After people are diagnosed with kidney failure, if they do not take proper treatment, renal failure will have great impact on people's body health. Well, let's see some precautions of kidney failure and hope renal failure patients can get benefits from it.
Potassium in oranges
Oranges contain high potassium and kidney failure patients need to limit the intake of potassium. The accumulation of potassium in your body will cause muscle weakness. In severe case, high potassium level will lead to irregular heartbeat and cause cardiac failure. Orange is a fruit with high potassium and potassium ion is indispensable and important substance in our body. However, when there is too much potassium ion, it will lead to bradycardia, conduction block, ventricular fibrillation and even sudden cardiac arrest. In this case, your life is in a dangerous condition. Since glomerular filtration rate is low and renal tubular function declines, kidneys' filtering to remove potassium is low. If patients consume high potassium foods, they are more likely to experience bradycardia. If patients with high potassium level in blood eat oranges, they will experience a series of symptoms of hyperkalemia. What is worse, it will threaten people's life.
It is clear that renal failure patients had better not eat oranges. In addition, experts remind that kidney failure patients need to restrict the intake of protein, phosphorus and sodium. This is because when renal function gets damaged, the toxins and wastes generated by food can not be discharged properly from the body. This will put a burden on your body.