Why Do We Restrict Protein Intake in Renal Failure
2014-11-05 03:51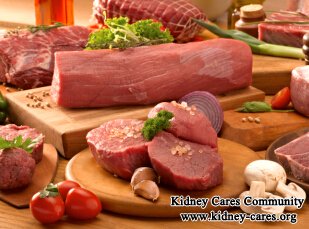 As we all know, renal failure patients are often advised to follow a low protein diet, but do you know why we restrict protein intake in renal failure? To know the answer helps us to carry out the restriction strictly.
Protein restriction for renal failure patients
We can not live without protein, because protein plays an important role in maintaining the normal function of our body. For kidney failure patients, their damaged kidneys can not retain the protein in the body, leading to proteinuria. Besides, the waste products such as urea produced by protein metabolism builds up in the blood, leading to high blood urea level. That is why you should restrict protein intake with kidney failure.
How much protein you can eat with renal failure?
In different stages of chronic kidney failure, there are different protein requirements. In the early stage of renal failure, 0.8 g/kg high quality protein is OK. In stage 4 renal failure, you can eat 0.6 g/kg high quality protein. In stage 5, you should control protein intake within 0.4 g/kg per day. If you are on dialysis, you should increase protein intake to 1.2 g/kg.
High quality protein contains essential amino acids your body needs so as to reduce waste products and decrease the workload of your kidneys. It is preferred to plant protein. Lean meat, fish, egg white, poultry without skin are all high quality protein.
Other diet suggestions for renal failure patients
Because protein is limited, you should supplement enough carbohydrates to provide calory for your body. Food such as rice, cereal, carrot and so on are good source of carbohydrates. In addition, you should add fresh vegetables and fruits into the diet. Due to their content of vitamins, fiber and minerals, you can earn a lot of health benefits.
We should restrict protein intake, but we should not avoid protein. Without protein intake, we will have malnutrition. If you would like a professional guidance, please feel free to contact online doctor or leave a message below.