Can I Drink Lemon Juice For Kidney Failure
2014-11-02 02:35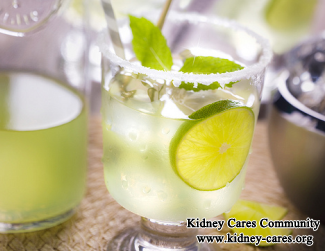 Can I with kidney failure drink lemon juice? Lemon juice comes with a long list of benefits. The health benefits of lemon juice include its use as a treatment of indigestion, constipation, high blood pressure, respiratory disorder and healthy skin. Known for its therapeutic property, lemon juice helps to strengthen your immune system, cleanse your stomach, and it is considered a blood purifier. In this regard, kidney failure patients can drink lemon juice.
1. Diuretic property
Lemon juice is one of natural diuretics. A diuretic causes your body to urinate more frequently than it normally would. People with water-retention problem in kidney failure can benefit from the natural diuretic effect of lemon juice.
2. Boost immune system
With low immune system or immunity disorder, people are prone to be attacked by disease. In this condition, their illness conditions are more likely to be worsened or aggravated. Lemon juice is a natural immune system booster and it can reduce your risk of suffering from cold, illnesses and infection. Kidney disease in this condition is easy to relapse.
3. Rich in vitamin C
Vitamin C helps build up your body's immunity. Lemon juice is rich in vitamin C. As a result, drinking lemon juice can decrease your chances of infections and help wounds heal faster.
4. Rich in calcium
Diseased kidneys tend to cause low calcium and high phosphorus level in blood. In this condition, patients should choose some foods with high calcium and low phosphorus level. In this way, your bone problems can be alleviated to some extent because your body needs calcium to build bone density.
5. Control high blood pressure
We know high blood pressure is one major cause of kidney failure. Apart from medications for it, diet also plays an important role in controlling high blood pressure. Lemon is high in potassium that helps to control high blood pressure.
From the above, we can see lemon juice is helpful for renal failure patients. However, it does not mean all patients can drink it. They should decide whether they can drink lemon juice or not according to their own medical conditions. If people have high potassium level in blood, they should not drink too much lemon juice, otherwise, it will cause serious medical condition like irregular heart beat, heart attack or muscle cramps.