Drinking Too Much Beer Can Lead To Kidney Failure
2014-08-14 02:35
In hot summer, many people like to drink cold beer. And when they go out to eat snack or have a gathering with their friend, they will always drink some beer. However, drink to much beer is bad for their health, especially for kidney disease patients. Over drinking can lead to kidney failure.
Over drinking and kidney failure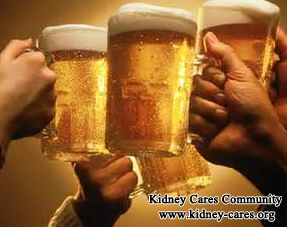 Beer contains alcohol. In the process of metabolism, alcohol will burden kidneys. Beer has function of diuretics but it also puts strains on kidneys. At the same time, it will do damages on liver. Once liver is damaged, its ability of expelling toxins cannot work properly. This further burdens kidneys. If you have suffered from kidney disease and you also drink beer too much, urea acid will accumulate in your body, causing blockage of kidney tubules. Kidney failure in this condition will occur.
Methods to prevent deterioration of kidney failure
Once you are diagnosed with kidney failure, you will bear many sufferings. There are several methods to prevent it from deteriorating.
1. Infection prevention
In daily life, patients should prevent infection, especially respiratory tract infection and urinary tract infection. Infection prevention plays a significant role in fighting against kidney failure deterioration.
2. Lower high blood pressure
High blood pressure is a major complication of kidney failure. Controlling high blood pressure is beneficial to improve kidney function to some extent.
3. Avoid medications that are toxic to kidneys
Patients should avoid some medications that are toxic to their kidneys, such as antibiotics of amino sugar and non-steroidal anti-inflammatory drugs.
4. Individual medical condition
Patients should have a clear knowledge about their own medical conditions to measure their severity of kidney damage. Kidney disease patients usually have vomiting, nausea, diarrhea, protein or blood in urine and urine changes including frequent urination at night, changes of urine color.
5. proper diet
A proper diet has significance on the treatment of renal failure.
Over drinking beer can push you to kidney failure. In your life, you should pay attention to your health. Once you doubt you may have kidney disease, you must go to hospital to take standard check ups and accept standard treatment to make yourself get recovered as soon as possible.