Benefits Of Eating Raw Garlic For Kidney Failure Patients
2014-08-07 02:31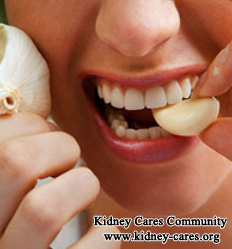 Kidney friendly diet is important for controlling or delaying the the progression of kidney failure. Raw garlic has medical properties and can provide a precondition for kidney self-healing needs. What benefits can kidney failure patients get from raw garlic?
Generally speaking, raw garlic can provide a good environment for kidney failure patients including heart health, lowering high blood pressure, resisting cold and reducing cholesterol.
1. Heart health and blood pressure management
Heart disease and high blood pressure are two major complications of kidney failure. Keeping them under control is able to delay or stop further kidney damage. Raw garlic includes hydrogen sulfide which can relax blood vessels. This helps lower blood pressure and decrease the pressure on overburdened heart.
2. Resistance to cold and flu
Having a cold is the common experience for everyone, which can be cured easily. However, very few people notice it can lead to kidney disease. Besides, cold will cause disease easily relapse. This is because cold can cause inflammatory factors to gather together to fight against the immune complexes, which aggravated the immuno-inflammatory responses. Thus, cold will worsen kidney disease, especially for auto-immune disease. Raw garlic is very useful for warding off cold o flu to reduce your risk of kidney disease.
3. Lower cholesterol
High cholesterol levels have been linked to heart disease and stroke which is the leading cause of death in people with kidney failure. So lowering cholesterol level and limiting high cholesterol food is important. Consistent in0gestion of raw garlic may help to lower raised cholesterol level to keep normal cholesterol levels in check.
Overall speaking, raw garlic is beneficial for kidney failure patients. Although it cannot cure kidney failure from the root cause, it can still provide a good precondition for kidney self-healing needs. Before eating raw garlic, you had better consult your doctor or our online expert. They will tell you whether it is suitable for you or not.