Is Too Much Water Bad for Kidney Failure
2014-07-04 09:02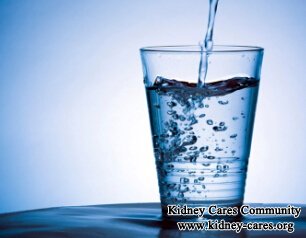 We can not live without water. In the daily, we are often asked to drink a lot of water to keep health. But sometimes we have to limit the intake of water. For some kidney failure patients, they are often recommended to control water intake. Is too much water bad for kidney failure?
Too much water is bad for kidney failure.
As we all know, one important function of kidney is to balance the fluid in the body through generating urine. When kidney function declines, it can not play the role fully. As a result, water and sodium retain in the body, resulting in edema. Besides, proteinuria can also cause water retention in the body. That is why kidney failure patients should control the intake of water, especially when they have edema. Even if you do not have edema, too much water can increase the workload of kidney. Long-term overload can cause damage to the kidneys. How much water you can take depends on your kidney function.
How to protect your kidney function through diet?
Healthy diet can help you control symptoms and protect kidney function. Besides water, you should pay attention to other diet. Low protein diet helps lower creatinine and BUN level and reduce proteinuria. Low sodium diet helps relieve edema and lower blood pressure. Low fat diet decreases cholesterol level. And high vitamin diet boosts immune system and helps fight against kidney disease. These guidelines are very general. The detailed one should be made according to your medical condition.
In fact, no matter what thing it is, you should know that too much is as bad as too little. If you do not know how to eat healthily, please leave your basic information below. Our doctor can make a personalized diet plan after analyzing your cases.