Can I Eat Barbecue If I Have Kidney Failure
2014-06-19 07:50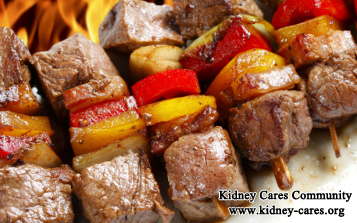 For people who enjoy cooking outdoors, a barbecue is much favored. Barbecue gives you tasty meats and veggies, while they are not the healthiest methods to prepare food. Barbecue creates health risks. In this condition, people who have kidney failure cannot eat barbecued food.
What are the health risks of barbecued foods?
When red meat, poultry, and fish "muscle meats" are subjected to intense high heat, heterocyclic amines (HCA)will be created. They have been shown to cause cancer and may increase the risk of cancers of breast, colon, stomach, and prostate in humans.
Polycyclic aromatic hydrocarbons (PAH's)are created when animal or fish fats drip onto hot coals. The smoke and fire flare-ups drive these residues into the food. PAH's are considered to increase the risk of stomach cancer.
How to reduce the health risks?
To reduce the health risks, the ways as follows to minimize or reduce HCA or PAH are helpful.
Reducing the heat is the first.
HCA forms when there is intense heat, so a nice low heat is better. Also precooking meat in a microwave helps cut down HCA's and allows lower temperature barbecuing.
The marinades also need to contain many beneficial phytonutrients. For example, garlic is required, because garlic contains allicin, which is a potent anti-cancer agent. Red and yellow onions help inhibit both cancer and heart disease. Besides, no salt in your barbecue, because high salt food may raise your blood pressure or worsen your edema in kidney failure.
On the whole, kidney failure patients are not suggested to eat barbecued foods. Also healthy people should not consume barbecued foods too much.