Is Corned Beef OK For Kidney Failure Sufferers
2014-06-03 06:31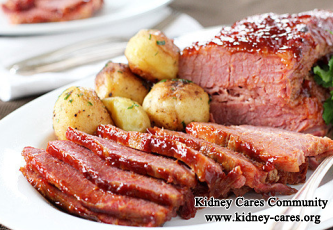 Corned beef is a salt-cured beef product. It tastes delicious and is favored by many people. However, as a kidney failure suffer, can he or she still consume this salted food?
1. How does sodium affect sufferers with kidney disease?
Generally speaking, kidney failure or other kidney disease patients are not allowed to eat corned beef. As we all know, healthy kidneys filter excessive water out of the body, while injured kidneys fail to balance your body water. In this case, your body usually has fluid accumulation, thus leading to edema. If you consume too much sodium, water accumulation will be worsened. Also swelling occurs. As sodium and fluid build up in your tissues and bloodstream, your blood pressure increases and you feel uncomfortable.
Damaging is sodium's link to high blood pressure. High blood pressure can cause more damage to unhealthy kidneys. This damage will further reduce kidney function, resulting in even more fluid and waste pile up in the body.
2. Other high sodium complications include the following aspects:
edema which is noticeable swelling in your legs, hands and face
Heart failure may present. This is because excess fluid in the bloodstream can overwork your heart making it enlarged and weak.
Shortness of breath is caused by fluid accumulating in the lungs, making it difficult to breathe.
In a word, kidney failure sufferers are not ok to eat corned beef and other high salted foods such as pickle, bacon, processed foods, fast food, ready foods and so on. However, you can use salt substitutes. Ask your dietitian before you start using salt substitutes. Certain substitutes may contain potassium, which should be avoided on the renal diet. This is particularly important if your potassium level is too high.
Our experts will provide many suggestions for renal diet. Therefore, any questions on renal diet, you can contact us freely.