Is Whole-Grain Bread Ok For Kidney Failure
2014-05-24 09:39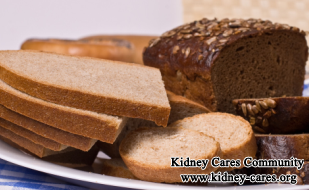 As is known to us, patients with kidney failure should pay attention to their diet in daily life, and differentiate what can be eaten from what can not be eaten. Then can they eat whole-grain bread in daily life? Here we will make an introduction for you in detail.
Get a knowledge of whole-grain bread in the first place.
Whole grain bread has more nutrients than white bread, and it has the below contents:
Crude fiber, vitamin E, B, zinc, potassium and other minerals.
Besides, it can soften blood vessels and lower high cholesterol level. And it can alleviate fatigue and back pain.
Though whole grain bread is very beneficial for our health, it is not recommended to eat whole grain bread in daily life. Because it have rich phosphorus and potassium. In this case, kidney can be under more pressure, causing further damage to kidney. Because for patients with kidney failure, they are very prone to deposition of phosphorus and potassium in daily life. Thus, they should limit intake of these two contents in daily life.
As a consequent, they should avoid whole grain bread, eat more egg white and milk.
Here is our introduction for you. In addition, low protein, low salt are also needed for kidney failure to alleviate kidney disease. And water should be managed, if swelling is serious, they should limit it. High quality protein food can be good, because it can produce few wastes, lowering pressure on kidney. If you want to know more information or have any question, you are very welcome to contact us any time by leaving a message or email us. It is a pleasure that we can help you solve problems.