Are Sunflower Seeds Bad For Kidney Failure Patients
2014-05-20 07:15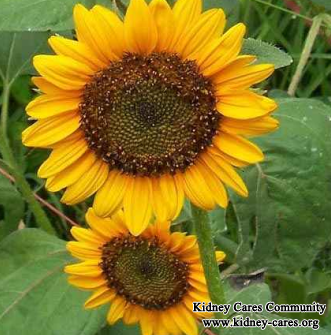 As a kind of common snack, sunflower seeds are much favored by people. They provide a rich source of vitamins E and B-1, as well as copper. Adding seeds to your diet benefits your health. As we all know, kidney failure patients should follow a diet which can alleviate its complications or symptoms. Well, are sunflower seeds good for people with renal failure?
Generally, patients who consume these foods on a regular basis are not bad for their medical conditions. Kidney failure patients eating sunflower seeds can get the following benefits:
1. Good for cardiovascular diseases
Cardiovascular disease is a common complication of kidney failure and it increases the mortality rate. Sunflower seeds are rich in vitamin E which plays an significant role in the prevention of cardiovascular disease. Vitamin E is an antioxidant which can keep free radicals from oxidizing cholesterol. This lowers the risk of cardiovascular disease and also reduces the mortality rate of kidney failure people.
2. Bone benefits
Sunflower seeds are particularly rich in magnesium. It is a well-known fact that calcium is necessary for bone health, but magnesium is too. Most magnesium in the human body is in our bones. Consuming sunflower seeds helps alleviate bone problems in kidney failure.
3. Anti-inflammatory benefits
Inflammation reaction will damage kidney intrinsic cells and lead to kidney disease. Sunflower seeds contain vitamin E which neutralizes free radicals that would otherwise damage fat-containing structures and molecules, such as cell membranes, brain cells and cholesterol. In a word, anti-inflammatory benefits of sunflower seeds contribute to reduce damages on body tissues.
The above health benefits of sunflower seeds are good for kidney failure patients. However, it is still to be cautious about eating too many sunflower seeds. They can sometimes be high in salt, although there are many brands that have little or no sodium. In this case, for kidney failure patients with hypertension or edema, they had better not eat too many sunflower seeds.