Is Kidney Failure Patients OK To Drink White Chamomile
2014-05-15 07:25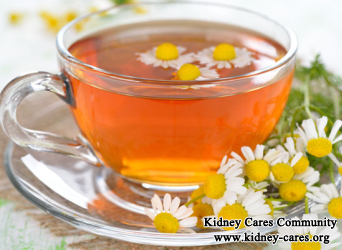 White chamomile is one of the most popular herbs and has some big benefits for your heath. Not only healthy people but also kidney failure patients all can drink white chamomile in their daily life as the tea has the following health benefits:
1. Boost kidney failure patients' immune system
One of the causes of your kidney failure is your bad habits which leads to your low immunity. In this condition, poor immunity fails to fight against harmful and toxic substances. Thus, this produces inflammatory reaction in your body and leads to your kidney disease. Therefore, boost immunity is very important to reduce the risk for kidney failure. A study found that drinking chamomile tea boosts antibacterial compounds in the body.
2. Benefits for type 2 diabetes
Diabetes especially type 2 diabetes is also a leading factor of kidney disease. Chamomile tea can lower blood glucose levels, and this herbal tea can help prevent or improve some of the complications associated with type 2 diabetes such as kidney damage and vision loss, etc.
3. Antioxidant protection
Chamomile is a rich source of antioxidants. And these antioxidants provide so many benefits for health. Antioxidants can not only fight inflammation, but also protect against chronic diseases such as high blood pressure, diabetes and heart diseases. These are all beneficial for kidney failure patients.
4. Reduce muscle spasm
Chamomile tea increases levels of amino acid glycine in your body, and higher levels of glycine may help reduce muscle cramps.
Chamomile tea is good for relieving kidney failure patients' symptoms such as diabetes, inflammation and muscle spasm, etc. From this aspect, it is ok for renal failure patients to drink chamomile tea. However, diet management cannot solve the root problem of kidney failure-injured kidney cells. Thus, repairing injured kidney cells and improving renal function is the root solution of kidney failure.