What Are Effects Of Pineapples In Kidney Failure
2014-05-02 01:12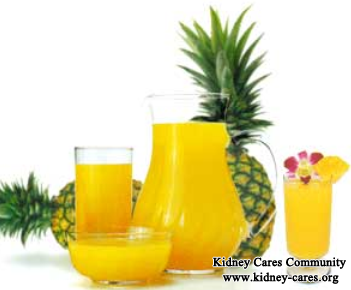 Eating healthily is good for kidney failure. It is said that King of Fruit pineapples have lots of important properties that are beneficial for renal failure patients. We have some main nutritional benefits of pineapples:
1. Prevent hypertension
If kidney failure patients with high blood pressure, they should tightly lower it down and should take pineapples diet into consideration. Higher amounts of potassium and lower amounts of sodium in pineapples helps maintain normal blood pressure levels. However, if patients have high potassium level in blood, they should not eat pineapples without consulting his doctor. Because high potassium in pineapples will worsen your medical conditions and increase the risk for heart attack, stroke and cardiovascular disease.
2. Relieve nausea
Kidney failure is a condition in which many toxins and wastes pile up in the body, causing many symptoms, like nausea, vomiting and poor appetite. A key benefit from pineapple juice intake is that it averts nausea and morning sickness. In this light, pineapples are good for kidney failure patients who usually experience nausea.
3. Heart health
Pineapples contains powerful antioxidants who keep free radicals away and lower the cholesterol levels, prevent heart diseases. It is helpful to decrease the risk of dying from cardiovascular disease.
4. Strengthen bones
Kidney disease patients usually have low calcium level caused by high phosphorus level. Low calcium level will make patients suffer from bone diseases like bone fracture and bone pain. Rich amounts of manganese present in pineapples helps in strengthening bones.
Apart from the above good effects of pineapples on kidney failure patients, pineapples also can prevent free radical damage, boost immunity and promote digestion, etc. Generally speaking, kidney failure patients can eat pineapples except those who suffer from high potassium. If you are still not sure whether you can eat pineapple or not, you can send your medical reports to kidneycares@hotmail.com or our online doctors. We will analyze your condition and then tell you if pineapples are good for you or not.