Can A Person With Kidney Failure Eat Corn
2014-04-22 03:06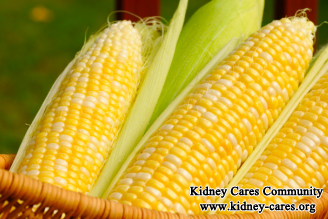 You know corn is delicious, but did you know it's also good for you if you are a person with kidney failure? Learn about the many health benefits of corn and then decide whether corn is good for kidney failure or not?
In addition to its delicious sweet taste, corn is high in fiber, low in fat and a great source of essential nutrients which offer many health benefits given below.
1. Good for digestion
Corn is higher in dietary fiber which contains both soluble and insoluble fiber. Soluble fiber can block cholesterol absorption whereas insoluble fiber prevents constipation and intestinal problems. For kidney failure patients with constipation problems, eating corns moderately is able to relieve constipation problem.
2. Lowers LDL cholesterol
Liver produces cholesterol and there are two types of cholesterol, HDL or good cholesterol and LDL or bad cholesterol. If you take too much fatty food, bad cholesterol will increase, thus weakening your heart and leading to cardiovascular diseases. Corn is high in vitamin C, carotenes and bioflavonoid which helps your heart healthy by controlling cholesterol levels and increasing the flow of blood.
3. Prevent diabetes and high blood pressure
Corn has been proven to be effective in reducing the signs of diabetes. Phytochemical in corn regulate the absorption and release of insulin in the body, which will reduce the chances of spikes and drops for diabetic patients and making them have a normal lifestyle. Besides, regular consumption of corn kernels protects against hypertension because of phenolic phytochemical in corn.
Apart from eating corn kernels, corn silk tea also has valuable benefits. For example, corn silk benefits for high blood sugar control. High blood sugar may lead to diabetes, kidney problems. Regulating blood sugar is able to maintain good health. Corn silk can also help reduce blood sugar levels. Furthermore, corn silk also is good for cholesterol lower and diuretic benefits.
In summary, corn is good for kidney failure patients. Also you should depend on your medical condition to make sure whether corn is good for you or not. If eating improperly, it may also be dangerous to your health condition.