Is Kiwi Good For Kidney Failure Patients
2014-04-05 06:30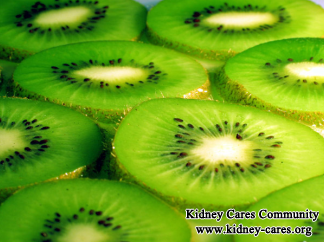 Actinidia berry, also called kiwi fruit, is rich in vitamin, so it is also called fruit of vitamin. Besides, kiwi also contains amino acid, carbohydrates, calcium, phosphorus and potassium as well as various minerals. Consuming kiwi for a long term can improve the SOD activity of the body, increase body and aging and has a sour sweet taste, which are favored by many people. However, is it good for kidney failure patients to eat kiwi fruit?
Renal experts cited that even though kiwi is abundant in vitamin, potassium in kiwi is high. Kidney failure patients have declined kidney function and cannot work properly. In this condition, if kidney failure patients eat some kiwi fruits, they will have hyperlipidemia and workload their kidneys as well as worsen their medical conditions. Thereby, for kidney failure patients, they had better not eat kiwi fruits.
Apart from kiwi, kidney failure patients also have many limitations on diet. They should have a low but high quality protein, low sodium and low potassium as well as low phosphorus diet. And the following we also list some high potassium foods. We hope you can benefit from them. If you need other diet suggestions, feel free to email to kidneycares@hotmail.com or leave your message below. We are very glad if we can give you some help.
Foods which are very high in potassium: peanuts, mushroom, skin of soya-bean milk, lotus nuts, kelp and preserved szechuan pickle and so on. Each 100g of these foods contain more than 1000mg of potassium. Besides, fungus, ham, spinach, dried pork floss, eels, dateplum persimmon and potato and so on. Each 100g of these foods contain over 500mg potassium.
Fruits are high in potassium: banana, longan, mango, kiwi and grapefruits, etc.
Kidney failure patients can not only pay attention to diet, but also should take timely treatments to delay the progression of kidney disease and prolong the life expectancy. If you have not found proper treatments, you can have a try of our hospital's Micro-Chinese Medicine Osmotherapy, Blood Polluted Therapy, Immunotherapy and Chinese Medicine treatment, which have been proven to have outstanding effects on treating kidney failure. We will choose a best treatment plan according to your own medical conditions and make our efforts to get the best therapeutic effects in a shortest time.