Is Pineapple Good for Patients with Kidney Failure
2014-03-17 16:35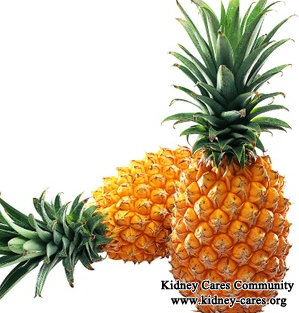 Is pineapple good for patients with kidney failure? Pineapple contains lots of nutrients like vitamin B1, vitamin B6, vitamin C, etc. Here we will talk about if patient with kidney failure can eat pineapple.
Firstly, let's see benefits of pineapple for health.
1. As vitamin C, vitamin B1 and vitamin B6 are rich in pineapple, pineapple can supply nutrients to body.
2. Pineapple can contribution to alleviating sore throat, bronchitis and arthritis.
3. Pineapple contains manganese which can help construct bones and connective tissues. Thus, eating pineapple can be helpful for strengthening bones.
4. Pineapple is good for digestion, because bromelain in pineapple can help digest food.
5. As anti-oxidants are high in pineapple, body can be protected from being impaired by free-radicals which can cause atherosclerosis and diabetic heart problems.
6. Pineapple contributes to alleviating nausea and vomiting.
Though there are many benefits of pineapple for health, patients with kidney failure are not recommended to eat much pineapple. Please see the following:
The most leading cause is high potassium in pineapple. For patients with kidney failure, due to decline of kidney function, potassium will build up in body. So eating much pineapple can make kidney carry much pressure and affect kidney function. Besides, heart problems and breathing problems can be caused by high potassium level.
In a word, if patients with kidney failure have high potassium level, they must avoid eating pineapple strictly. The best way is that patients with kidney failure should consult doctors or our online doctors to get detailed information before they begin to eat pineapple. Our online doctors can give you a satisfied answer according to your specific disease condition. Besides, we will provide many information about diet for patients wit kidney failure for you, which is very helpful to help alleviate kidney failure.