Is Strawberry Good for Kidney Failure Patient
2013-08-04 15:38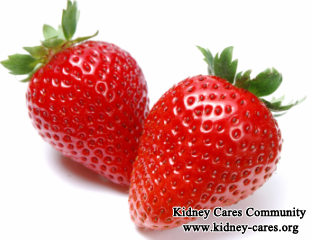 Strawberry is a common fruit. Because it has tempting colour and smell, as well as its beautiful shape, strawberry has the good reputation of "queen of fruits". Kidney failure patients have strict restriction in his diet, while some of them love to eat strawberry. Here, we may have the question: is strawberry good for kidney failure patient?
Kidney failure patients should be careful in their diets, because what they eat has an important role in controlling their condition. If you have kidney failure and love strawberry, you can consult the online doctor whether you can eat it. If the answer is yes, you can get the following benefits from consuming strawberry.
Benefits on heart and cerebral vessels
Strawberry has rich content in anthocyanin and ellagitannin. Anthocyanin is a kind of antioxidant, which has the effects of preventing oxidative damages and protecting kidney cell structures. It also has abundant vitamin C and fiber. Adequate intake of fiber can reduce the levels of cholesterol and lipids, thus reduces the risk of hyperlipidemia and atherosclerosis, which are common and risky symptoms to kidney failure patient. As we know, anemia often occurs in kidney failure, and vitamin C in strawberry can promote the absorption of iron, which is a great help to treat anemia.
Benefits in gastrointestinal system
Vitamin and pectin in strawberry are substances that can help the function of intestines and stomach. Gastrointestinal problems are common symptoms of kidney failure. Vitamin and pectin of strawberry can help intestinal peristalsis and the secretion of gastric juice, which is a great promotion in digestion.
Strengthen physique
There are abundant nutriments and microelements in strawberry, such as iron, potassium, fiber and vitamin B1, B2, C, etc. These microelements can help strengthen people's immunity. Strawberry also has the function of easing the psychological pressure, which can make you fall asleep easily.

Even though strawberry has so many health benefits, people who have some healthy problems such as diarrhea and kidney stone need to avoid it. Remember that never taking any food that isn't available for you.
Our Treatment Effect
High creatinine level is dangerous to a kidney patient
Move the mouse to enlarge the picture
If you also want to reduce your high creatinine level, please look at this patient's report. When he was just hospitalized in our hospital on Dec 11, 2018,
His creatinine:1028umol/L,
urea: 39.7mmol/L
UA : 513umol/L
After a period of our treatment,
his creatinine:331umol/L, urea:16.1mmol/L
UA :325umol/L on Jan 5, 2019.
His condition was getting better and better. You can also get better.
For a CKD patient, you can choose Chinese medicine treatments to control your condition. your creatinine level can be reduced radically, symptoms can be alleviated and more importantly, your renal function will be improved. In this way, you can stay away from end stage kidney disease and avoid dialysis.