Cranberry is Good for Chronic Renal Failure
2013-06-12 16:16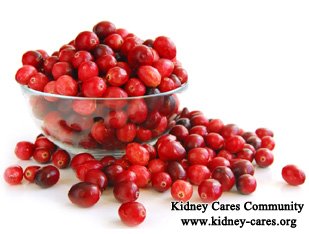 Cranberry, whether in the form of juice or dried fruit or pill, has long been used as a healthy and natural supplement for chronic renal disease and chronic renal failure patients.
Cranberry has natural and effective anti-inflammatory properties and it can help prevent and treat urinary tract infections, kidney infections and it can also help much lower the risk of stone formations in the kidneys, therefore it is very good for those that are suffering from chronic renal failure because kidney stone, kidney infection, urinary tract infections are very common among kidney failure patients and these conditions often aggravate the illness conditions and speed up the deterioration of renal failure. What is more important, cranberry is natural, safe and nutritious.
Cranberry contains high citric acid and quinic acid which can help prevent the buildup of phosphate and calcium ions in urine so as to reduce the risk of stone formation in the kidneys and urinary tract.
Frequent urinary tract infections are very common among renal failure patients because the severely impaired kidneys can not remove bacteria and viruses efficiently from the kidneys. Bacteria and viruses will grow in the urinary tract and cause infections and inflammations. If not well controlled, the infection can affect the kidneys and cause kidney infection which is not easy to be treated as urinary tract infection and kidney infection often will worsen renal damages.
Cranberry has been proved to be potent and effective at preventing urinary tract infections so as to help avoid and reduce potential damages to the kidneys. Cranberry can make the urine acidic so that bacteria can not grow and it has also been found to prevent the attaching of bacteria on the walls of the bladder.
When urinary tract infections, kidney infection, kidney stone and other symptoms and complications of chronic renal failure are well controlled, the illness progression of renal failure can be slowed and patients can feel much better.
It is clear that cranberry is good for chronic renal failure patients, but we also need to know that cranberry is not a cure for renal failure and renal failure is a relatively serious illness condition that requires more potent and effective treatment such as Micro-Chinese Medicine Osmotherapy, immunotherapy, kidney transplant, etc.
Get free online analysis for your illness condition here. Choose any of the following tools to start instant communication with our experts.
Leave Message
Leave your problem to us, we are here to help you with free charge!