What Creatinine Level Refers to Kidney Failure
2014-10-23 15:55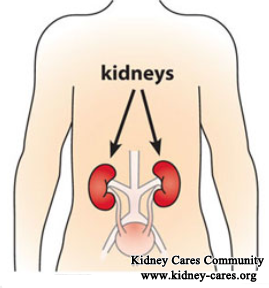 Creatinine level in blood reflects kidney condition, and usually the higher the serum creatinine level is, the poorer the kidney condition. Therefore, by measuring creatinine level in blood, we can generally understand how our kidneys work. Kidney failure is the one that all the patients with kidney problem want to avoid. Well, what creatinine level refers to kidney failure?
Kidney failure can be regarded as an independent illness, also a result of years of kidney damages. It is the worst kidney condition and to guarantee the normal life activity, dialysis is needed to remove toxins in blood. Dialysis is life-sustaining, but painful, so all the people want to prevent kidney failure.
Creatinine is a substance that is generally removed out of the body through kidney, so for kidney failure patients, their creatinine level in blood is usually very high. Chronic Kidney Disease is divided into 5 stages according to GFR (Glomerular Filtration Rate). In stage 1 CKD, GFR is usually higher than 90. In CKD stage 2, GFR is in the range of 60-89. CKD stage 3 is marked by GFR 30-59 and stage 4 is characterized with GFR 15-29. For patients whose illness is in end stage or we can say kidney failure stage, GFR is lower than 15. With the deterioration of chronic kidney problem, GFR keeps decreasing and creatinine level in blood keeps increasing.
In medicine, serum creatinine level reflects kidney condition, but it is really hard to make an accurate diagnosis of kidney condition just by creatinine level in blood. According to clinical studies, creatinine level in blood begins to increase when about a half of kidney function is impaired, so high creatinine level usually indicates advanced kidney problem like CKD stage 4 or stage 5.
In some cases, patients are diagnosed with CKD stage 4 or CKD stage 5, but it is possible for him to have slightly high creatinine level. In some other cases, patients may have serum creatinine level as high as 5 or 6, even if their illness is still in stage 3 or stage 4. For this reason, many tests are needed to have an overall understanding about kidney condition in the diagnosis of kidney problem.
Kidney failure is the last stage of chronic kidney problem which is always marked by many symptoms like nausea, vomiting, itchy skin and tiredness and so on. Although there is no clear definition of kidney condition simply according to serum creatinine, creatinine level in blood is usually higher than 4 or 5 when kidney problem develops to kidney failure stage.
Our Treatment Effect
High creatinine level is dangerous to a kidney patient
Move the mouse to enlarge the picture
If you also want to reduce your high creatinine level, please look at this patient's report. When he was just hospitalized in our hospital on Dec 11, 2018,
His creatinine:1028umol/L,
urea: 39.7mmol/L
UA : 513umol/L
After a period of our treatment,
his creatinine:331umol/L, urea:16.1mmol/L
UA :325umol/L on Jan 5, 2019.
His condition was getting better and better. You can also get better.
For a CKD patient, you can choose Chinese medicine treatments to control your condition. your creatinine level can be reduced radically, symptoms can be alleviated and more importantly, your renal function will be improved. In this way, you can stay away from end stage kidney disease and avoid dialysis.