How Diabetes And Hypertension Can Lead To End Stage Renal Disease
2015-06-08 06:09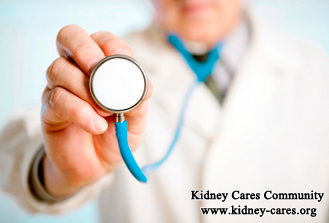 How diabetes and hypertension can lead to end stage renal disease (ESRD)? Many people with diabetes and high blood pressure worry about this issue. In this article, we will give you an explanation about this. Please read further to find the answer.
Many patients do not know the relation between diabetes, high blood pressure and end stage renal disease. The clinical researches have shown that the first leading cause of kidney disease is diabetes and the second leading cause is high blood pressure.
How does diabetes cause kidney failure?
With diabetes, the small blood vessels in the body will be injured. When the blood vessels in the kidneys are injured, your kidneys cannot clean your blood properly. Your body will retain more water and salt than it should, which can cause weight gain and ankle swelling. You may have protein in urine. Wastes will also build up in your blood.
About 30 percent of patients with type 1 diabetes and 10-40 percent of those with type 2 diabetes eventually will suffer from kidney failure.
How does high blood pressure cause kidney failure?
High blood pressure can damage blood vessels in the kidneys, reducing their ability to work properly. When the force of blood flow is high, blood vessels stretch so blood flows more easily. Eventually, this stretching scars and weakens blood vessels throughout the body, including those in the kidney. If blood vessels in kidneys are damaged, they may stop removing wastes and extra fluid from the body. Extra fluid in the blood vessels may then raise blood pressure even more, creating a dangerous cycle. High blood pressure is the second leading cause of kidney failure. In addition, the rate of kidney failure due to high blood pressure keeps increasing.
All in all, diabetes and hypertension can lead to end stage renal disease. Therefore, patients with diabetes and high blood pressure should take treatment as early as possible. Do not let the disease to develop to kidney failure. If kidney failure is caused, we should take methods to repair kidney damage and improve renal function. This can be achieved by Chinese Medicine Treatment like Micro-Chinese Medicine Osmotherapy, Mai Kang Mixture, Medicated Bath, Medicinal Soup and Enema Therapy, etc. As for the detailed information about these therapies, you can consult our online doctor directly or leave a message to kidneycares@hotmail.com.
Our Treatment Effect
High creatinine level is dangerous to a kidney patient
Move the mouse to enlarge the picture
If you also want to reduce your high creatinine level, please look at this patient's report. When he was just hospitalized in our hospital on Dec 11, 2018,
His creatinine:1028umol/L,
urea: 39.7mmol/L
UA : 513umol/L
After a period of our treatment,
his creatinine:331umol/L, urea:16.1mmol/L
UA :325umol/L on Jan 5, 2019.
His condition was getting better and better. You can also get better.
For a CKD patient, you can choose Chinese medicine treatments to control your condition. your creatinine level can be reduced radically, symptoms can be alleviated and more importantly, your renal function will be improved. In this way, you can stay away from end stage kidney disease and avoid dialysis.