Obvious Symptoms Of Kidney Cysts Rupture
2014-06-05 01:47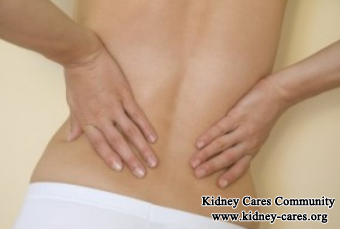 Kidney cyst is characterized by fluid filled sacs. When they enlarge to a certain size, they may rupture and people can know their cysts have burst from several obvious symptoms. So what are the obvious symptoms of kidney cysts rupture?
Cysts rupture resulting in minor or severe symptoms. The following are the ruptured kidney cyst symptoms:
1. Blood in urine or hematuria
Blood in urine is the most commonly sign of cyst burst within the kidney. In mild cases, blood may be undetectable to the eye, while in more severe cases, the cysts may cause bleeding which is visible during urine excretion.
2. Pain on lower back or abdomen
The pain can occur when the cysts are located externally on the kidney and become enlarged and press against other structure in the body. The pressure that is generated by the growing cysts can cause them to burst. In this condition, ruptured cysts can cause pain in the back, sides, abdomen and hips. Besides, pain may also be caused by infection. If the cysts are infected, once a cyst rupture, the infection may spread to other areas of the body.
Blood in urine and lower back pain as well as abdominal pain are several symptoms of kidney cysts. What's more, urinary tract infection, headache, high blood pressure, frequent urination and fever are all symptoms of kidney cysts. If left untreated, they may cause more dangerous conditions and cause more further kidney damage. In this light, controlling these symptoms become urgent.
How to control symptoms in kidney cyst rupture?
In the early beginning, we have mentioned kidney cyst is filled with fluid sacs. For this reason, hindering the secretion of fluid sacs is the key point to shrink kidney cysts, thus preventing kidney cyst enlargement and stopping kidney cyst rupture. We apply Micro-Chinese Medicine Osmotherapy to reduce the secretion of cystic fluid. When the internal pressure of the cyst declined, the cyst will become smaller. Thus, kidney cyst is more less likely to burst so obvious symptoms can rarely present.