Is It Serious with A 4 cm Cortical Cyst in My Left Kidney
2014-11-04 08:26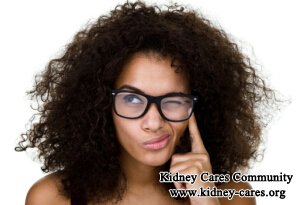 Cortical cyst is a very common type of kidney cyst. Because it is located at the renal cortex, it is called the cortical cyst. "I am having 4 cm cortical cyst in my left kidney, is it serious?" After reading this article, you will find the answer.
Symptoms you may have with a 4 cm cortical cyst in left kidney
When the cortical cyst is small, there are seldom symptoms. But when the size of cyst is more than 3 cm, symptoms begin to appear. You said that your cyst is 4 cm, which may oppress the tissues around so as to cause back pain and the pain is usually dull. Besides, you may feel it when you press down on your abdomen. This cortical cyst may also lead to blood urine or foamy urine as well as high blood pressure. Therefore, you had better take treatment as early as possible.
Treatment for a 4 cm cortical cyst in left kidney
-Surgery
If you have severe symptoms, surgery is needed to remove the cyst. There are two kinds of surgeries, namely sclerotherapy and laparoscopic cyst decortication. Sclerotheray is to insert a long needle to drain the cyst and laparoscopic cyst decortication is an invasive procedure in which the cyst is cut open and the ends are burned.
When you decide to do surgery, you should find a skilled doctor. Because if the cysts can not be removed totally, it may relapse again. Besides, if you have inflammation, you should control the inflammation first.
-Medicine
Taking medicine to relieve these symptoms is OK. But they can not cure the cysts.
-Micro-Chinese Medicine Osmotherapy
This is a conservative treatment. It is to penetrate the micronized Chinese herbs into the kidneys. This therapy can speed up blood circulation and increase the permeability of cyst wall so that cyst fluid can be reabsorbed and discharged with blood circulation. And then cysts become small.
A 4 cm cortical cyst is not serious, but you should control its growth timely to prevent further damage to your kidneys. For more information, please contact online doctor or leave a message below.