Could You Take Chia Seeds If You Have Kidney Cyst
2014-12-07 02:10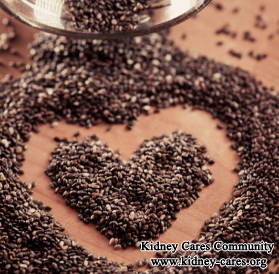 Diet plays an important role in the treatment of kidney cyst. Chia seeds is becoming better known as a great source of healthy omega-3 fatty and fiber and it is an easy food to add to your diet. The following will introduce you the detailed information.
Generally speaking, kidney cyst patients can get some health benefits from chia seeds:
1. high in fiber
kidney disease patients usually suffer from constipation. To alleviate this condition, high in fiber food is helpful. Eating the recommended amount of chia seeds with high fiber may help lower your risk for constipation.
2. combat diabetes
diabetes is a leading factor of kidney disease. To combat diabetes, it is able to reduce the risk of kidney disease. Chia seed is studied as a potential natural treatment for type 2 diabetes because of its ability to slow down digestion. Keeping balanced levels of blood sugar is important for both health and energy.
3. healthy omega-3 fatty oil
omega-3 fatty acid is said to keep your heart and brain healthy. With kidney cyst, many body organs will be affected. Brain and heart are usually damaged. Omega-3 fatty acid can help alleviate this condition.
4. stronger bones
bone problem is often to be seen in kidney cyst patients. This is because damaged kidneys fail to keep electrolytes in balance, thus causing low calcium and high phosphorus level. Under such a condition, patients usually experience bone problems. Chia seeds contain daily intake of calcium, which puts you well on your way to maintaining bone and oral health, and preventing osteoporosis. However, chia seed also contains plenty of phosphorus. Therefore, kidney cyst should be very careful with the amount of chia seeds.
So, to answer the question, could kidney cyst patients eat chia seeds, it is yes and no. You can consult our online doctor to know whether you can eat chia seeds or not.