Are There Foods To Avoid With Having Kidney Cysts
2014-05-02 08:33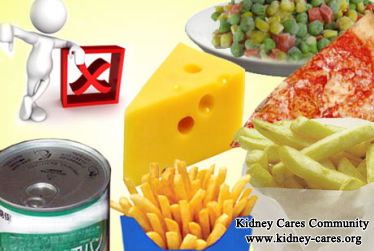 If you have kidney cysts, the food you choose to eat may help slow progression of symptoms. And the following foods should be avoided with having kidney cysts.
1. Shake the salt habit
One of kidney functions helps remove excess fluid from the body. When kidney cysts disrupt this function, fluid will accumulate in the body, leading to high blood pressure and swelling. Sodium helps maintain fluid balance by retaining fluid. If you eat high sodium foods when your kidneys are not working properly, your body will retain more fluid, worsening high blood pressure and swelling. You should avoid high sodium foods such as processed foods, canned foods, table salt, seafoods and fast foods, etc.
2. Less protein diet
If you develop kidney cysts, you doctor may advise you to eat less protein. When your kidneys are injured by enlarged cysts, they cannot discharge protein by-product from the body, causing accumulation of toxins. Having a less protein diet helps slow down kidney function decline and prevent toxic substances in your body. Protein rich foods include meat, fish, eggs, chicken, milk, turkey and cheese and cream.
3. Caffeine-containing foods and drinks
It is said by "Journal of the American Society of Nephrology" that caffeine is a risk factor for enlarged cysts. Moreover, tea, cola, and other caffeine-containing foods and beverages are also avoided if you have kidney cysts.
A list of diet should be avoided by kidney cyst patients. Of course, patients should depend on their own medical condition to choose which foods are good for their health. Or they consult their doctor or our online doctor to choose healthy foods.
Diet is a basic treatment for kidney cysts. To achieve a better treatment, Chinese herbs are essential. Chinese herbs medicines are able to prevent inflammation, shrink cysts and stop the growth of renal cysts so as to treat kidney cysts from the root.