Citrus Fruits: The Best Foods For Kidney Cysts
2014-03-17 15:37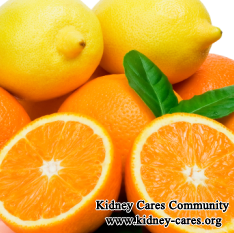 Scientists have studied that a component found in grapefruit and other citrus fruits may successfully prevent the development of kidney cysts. How do citrus fruits used to treat kidney cysts?
There are two types of kidney cysts: simple and complex. Simple cysts usually cause no dangers, but complex cyst like polycystic kidney disease(PKD) is an inherited disorder that causes cysts to develop in the kidneys. This kidney disease will cause kidney function decline, high blood pressure and some complications such as heart attack and stroke as well as brain aneurysms.
Naringenin helps regulate PKD2 protein
It is studied that PKD3 protein is responsible for the development of polycystic kidney disease. In this case, when naringenin came into contact with the PKD2 protein, it became regulated, thus blocking the formation of cysts.
To see how naringenin apples to the treatment of polycystic kidney disease, the scientists triggered the formation of cysts in a mammalian kidney cell. From this experiment, it was found that the formation of cysts can be blocked by adding naringenin. In addition, when PKD2 protein levels become lower in the kidney cells, the block of cyst formation was also reduced. This experiment provides an important step forward in knowing how PKD may be controlled.
Now that citrus fruits may help prevent kidney cyst, patients with kidney cysts can eat citrus fruits, including oranges, grapefruits, lemons, limes, grapefruits and tangerines, etc. Of course, you must make sure the amount you consume is good for your condition. If you want to know the right amount you can consume, you can leave your message below or email to kidneycares@hotmail.com and we are here to help you.