Are Exercise and Yoga Fine For PKD Patients
2017-01-24 08:00
A: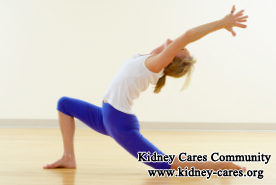 I have PKD (Polycystic Kidney Disease) and I was wondering if exercise and yoga are fine to be doing.
Exercise improves survival in kidney patients even a short term workout can extent life expectancy. Gentle exercise, non-tranumatic, non-contact is best for PKD. Read on to know exercise that you can do.
Yoga not only benefits our body, but also our mind. There are many different yoga poses like bikram yoga, power yoga and ashtanga yoga and so on. Some yoga postures are difficult and it is difficult to finish it easily in some cases. Yoga has many benefits to our health condition but for PKD patients, they need to be careful while doing yoga. For some yoga postures, PKD patients need to bend their waist. In this condition, it is easy to cause the burst of kidney cysts. When kidney cysts burst, they can induce blood in urine, back pain and infection. Therefore, it is necessary for PKD patients to avoid some drastic physical movements in yoga.
Gentle exercise and yoga is good for PKD patients. One good exercise is walking. Walking is highly recommended because it can help curb cardiovascular conditions, a major health risk for people with kidney problem. Walking can lower your chance of heart problems. And other benefits of walking include improving blood circulation, controlling blood pressure, relieving stress, boosting your energy levels, improving your memory, etc.
In addition to giving you physical benefits, exercise may improve your mental outlook. You will have self-confidence and starve off depression. A positive mental outlook may help you deal with the challenges that may come with kidney disease.
Gentle exercise and yoga are fine for PKD patients. People with PKD and kidney diseases can enjoy many physical and psychological benefits of exercise.
Our Treatment Effect
Swelling is an obvious sign of kidney disease.
Move the mouse to enlarge the picture
Look, this patient has severe leg swelling which has made her feel pain and can not get out of the bed. In order to seek better treatment, she came to our hospital for Chinese medicine treatments. 30kg of fluid was removed from her body in less than a month. Her leg swelling disappeared completely. Now you can see her long legs again.
Say goodbye to dialysis
Kidney Disease Treatment - 9 kinds of therapies