Is There Any Natural Way to Heal CKD
2016-11-21 07:55
Q:
Hi, my husband has CKD. He has lots of protein in his urine. Doctor wants to put him on dialysis, which we does not want to put him on it. Do you have any natural way to heal this CKD, please?
A: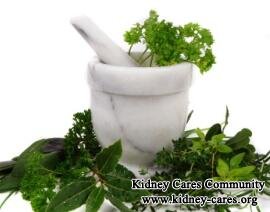 Dialysis is the last treatment for CKD patients to maintain their life. Though your husband has lots of protein in urine, it does not meant he has to do dialysis. What is his creatinine level now? What causes his kidney damage? If possible, please send his medical test report to kidneycares@hotmail.com. After having a clear mind of his condition, we will give you some specific suggestions. Before that, we can only give you some general suggestions.
Dialysis is not an effective way to stop protein leakage.
Dialysis is a treatment to filter waste products and excess fluid out of the body. After dialysis, your creatinine level and other toxin concentration in the blood will reduce, and then some of your body discomfort, such as headache, nausea, vomiting, skin itching and so on will get relieved. But dialysis can not repair kidney damage and inhibit kidney inflammation, so there will be still protein in urine. Here we suggest you a systemic treatment named Toxin-Removing Treatment. It makes use of your skin, intestinal tract and kidney to remove as many as wastes from blood and renal cells to set up a clean blood environment for the damaged kidneys to heal themselves. It can also dilate blood vessels and remove stasis to improve blood circulation and increase blood flow into damaged kidneys to provide them with enough essential elements, such as oxygen, nutrients and active ingredients of medicines to speed up kidney recovery. With the improvement of kidney function, you can avoid dialysis. Because medicines in those therapies are almost from nature, you can use them safely under the instruction of doctor.
There is natural way to heal CKD, but the above referred treatment is only available in China. If you want to try them, you have to come to China for treatment. For more information on our hospital and our treatment, please leave a message below or contact online doctor. We are glad to help you.
Our Treatment Effect
Swelling is an obvious sign of kidney disease.
Move the mouse to enlarge the picture
Look, this patient has severe leg swelling which has made her feel pain and can not get out of the bed. In order to seek better treatment, she came to our hospital for Chinese medicine treatments. 30kg of fluid was removed from her body in less than a month. Her leg swelling disappeared completely. Now you can see her long legs again.
Say goodbye to dialysis
Kidney Disease Treatment - 9 kinds of therapies