Creatinine 9.7 and Dialysis Twice A Week: Is There Any Possibility of Recovery of Kidney
2016-02-16 10:23
Q:
Hi. My brother is suffering from CKD from last one month. His creatinine level is 9.7 and he is taking dialysis twice in a week. Is there any possibility of recovery of kidney?
A: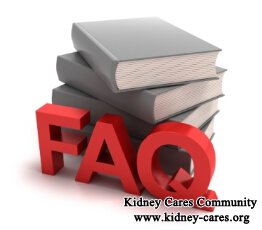 Dialysis is used primarily as an artificial replacement for lost kidney function in people with kidney failure to remove waste products and excess fluid from the blood. But as we can see that even though your brother does dialysis twice a week, his creatinine level is still far beyond the normal range (0.5-1.2 mg/dL), which indicates that dialysis can not do a thorough cleanse of the polluted and he needs a more effective treatment.
In our hospital, we often use Blood Pollution Therapy to treat kidney failure. This treatment treats kidney problem by firstly treating the polluted blood and then building damaged kidney structure to restore kidney function. It is a combination of many kinds of blood purification therapies, which can not only remove micromolecule waste products like dialysis, but also other kinds of wastes so as to build up a clean blood inner environment. Besides, it can remove stasis from the blood vessels to improve blood circulation in your body so that enough blood can flow into kidneys and then active ingredients of medicine can be taken into the damaged kidneys to help them recover. To speed up kidney recovery, we will supplement essential elements, such as amino acids, vitamins and trace elements according to your medical condition. After a period of treatment, high creatinine level will go down gradually. Because kidney function improves, creatinine level can be kept into a lower range than now. And with the improvement of kidney function, dialysis frequency can be reduced to one time a week. After several months' treatment, it is even possible for the kidney failure patients to get rid of dialysis.
There is possibility of recovery of kidney if your brother still has urine output and his kidneys do not shrink. And the earlier he starts treatment, the more possibility for him to get rid of dialysis. For more information on our treatment, please feel free to contact online doctor or leave a message below.
Our Treatment Effect
Swelling is an obvious sign of kidney disease.
Move the mouse to enlarge the picture
Look, this patient has severe leg swelling which has made her feel pain and can not get out of the bed. In order to seek better treatment, she came to our hospital for Chinese medicine treatments. 30kg of fluid was removed from her body in less than a month. Her leg swelling disappeared completely. Now you can see her long legs again.
Say goodbye to dialysis
Kidney Disease Treatment - 9 kinds of therapies