Creatinine Level Is Not Settled After Dialysis: Are There Chances of Kidney Recovery
2016-02-03 07:30
Q:
My father's creatinine level reached up to 8. Also he has diabetes. He had already undergone 8 dialysis. Still his creatinine level is not settled. Are there chances of kidney recovery in CKD? After dialysis, it reduces to 3 and after 2-3 days it again increases to 5-6. Please advice.
A: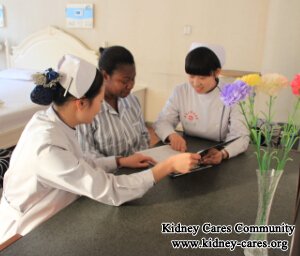 Dialysis is the most common used treatment for kidney failure patients to cleanse the polluted blood and maintain their life. But it can not repair the damaged kidneys and improve kidney function. After dialysis, creatinine and some other waste products build up in the blood again. That is why creatinine level elevates after dialysis. It is not difficult to lower the high creatinine level. Medicine like ketosteril and medicinal charcoal tablets can all be used. However, the fundamental solution is still improving the kidney function. To settle creatinine level, it is necessary for your father to repair the damaged kidneys.
There are chances of kidney recovery in CKD.
As long as your father has urine output, there are chances of kidney recovery, because urine output means there is still blood flow in kidneys and active ingredients of medicine can go into the kidneys to help them recover. In our hospital, we often use Chinese medicine therapies, such as Micro-Chinese Medicine Osmotherapy, Medicated Foot Bath, Mai Kang Composition and various medicinal soup to extend blood vessels, improve blood circulation and increase the blood and oxygen supply for the damaged kidney cells, inhibit kidney inflammation and stop kidney fibrosis. Once the damaged kidney cells are repaired and their function will gradually improve. And then the serum creatinine level will come down and stay stable. As long as his kidney function is promoted to more than 15%, he can stop dialysis.
However, because some kidney cells have been so severely damaged, they can not be revitalized. Therefore, it is impossible to regain all kidney function and it is better for you to start treatment early to prevent further kidney damage. You can send a scanned copy of your father's medical test report to kidneycares@hotmail.com. After analyzing your father's treatment, we can give you more suggestions to help him recover from Diabetic Nephropathy and get rid of dialysis.
Our Treatment Effect
Swelling is an obvious sign of kidney disease.
Move the mouse to enlarge the picture
Look, this patient has severe leg swelling which has made her feel pain and can not get out of the bed. In order to seek better treatment, she came to our hospital for Chinese medicine treatments. 30kg of fluid was removed from her body in less than a month. Her leg swelling disappeared completely. Now you can see her long legs again.
Say goodbye to dialysis
Kidney Disease Treatment - 9 kinds of therapies