A: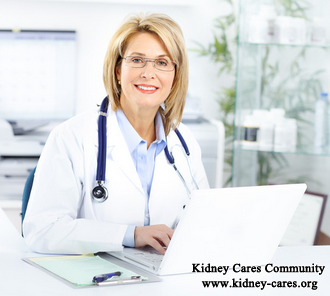 1. What does kidney function 67% mean?
According to glomerular filtration rate (GFR), chronic kidney disease (CKD) is divided into 5 stages.
Stage 1 kidney disease: GFR level: 90mg/min or more
Stage 2 kidney disease: GFR level: 60 to 89ml/min
Stage 3 kidney disease: GFR level: 30-59ml/min
Stage 4 kidney disease: GFR level: 15-29ml/min
Stage 5 kidney disease: GFR level: less than 15ml/min
From the above, we can see you are in stage 2 kidney disease. Factors associated with kidney disease include uncontrolled blood pressure, high glucose, excessive use of pain medications, smoking, tests using dye, obesity and family history (kidney disease runs in families). If you have one or more of them, you are at risk for kidney disease or already you have suffered from kidney disease.
Stage 2 kidney disease is a reversible stage. If effective treatment is adopted, you can get them up.
2. What is the treatment for kidney disease?
Kidney-friendly diet
Most people who have kidney disease need to limit salt, fluids and protein. Some also have to limit potassium and phosphorus. You may have to give up many foods you like. Also you need to get enough calories to be healthy and have energy. However, there is no one diet that is right for everyone with kidney disease. Your doctor or dietitian can arrange a diet for you based on how well your kidneys are working.
Diet can do some help for kidney disease but it is not enough. Medical treatment is the most important.
Chinese medicine treatment
During the treatment of kidney disease, Chinese medicine treatment is strongly recommended. Chinese Medicine treatments like Micro-Chinese Medicine Osmotherapy, Medicated Bath, Foot Bath and Mai Kang Mixture, etc are effective in repairing injured kidney cells and improving kidney function. When your kidney function is improved, symptoms associated with kidney disease can be alleviated effectively.
If you have any question, you can leave me a message below or consult our online doctor directly. I will try our best to help you.