Can A Man With Kidney Failure Have One Hundred Percent Produce Good Sperm Cell
2015-08-23 03:41
Q:
I am a kidney failure patient. I want to know can a man with kidney failure have one hundred percent producing good sperm cell. Or is there any effect.
A: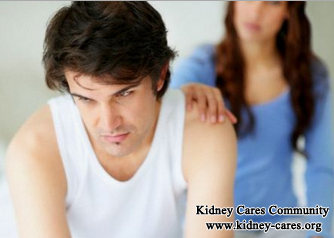 In kidney failure, there is an effect on the sperm cell both on their counts and quality. Damaged kidneys results in a build up of waste products in the body, which can adversely affect sperm quality and fertility. It can also cause erection problems. So it is impossible for a man with kidney failure to have one hundred percent producing good sperm cells.
1. Sperm cell can also be affected by other factors:
Diabetes and male fertility
Diabetes is a leading cause of kidney damage. If kidney failure is caused by diabetes, there will be the defective sperm DNA, which is one cause of male infertility. What is also well decumented is the rapid rise in the type 2 diabetes in the adult population.
Drug abuse
With kidney failure, you have to take various medications. Sometimes the drugs can reduce the volume of sperm by as much as 50%. Anabolic steroids can also affect this volume.
Polycystic Kidney Disease (PKD) and sperm cell
PKD is a genetic kidney disorder, which is characterized by multiple kidney cysts in the kidneys. It can cause infertility in men as the first symptom if cysts develop in the reproductive tract.
2. How to treat improve sperm cell quality in kidney failure?
Micro-Chinese Medicine Osmotherapy is used to treat kidney failure naturally and effectively. It is on the basis of traditional Chinese medicine (TCM) but used externally. The active ingredients can come to kidney lesion directly and help improve blood circulation. In this way, wastes can be discharged out of the body with urine. More importantly, this therapy can repair kidney damage and improve renal function. When kidney function is improved, wastes can be removed from the blood completely. Thus, sperm cell quality and count can be improved.