A: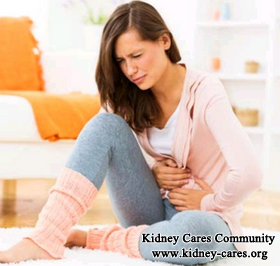 Abnormally bloated stomach can be caused by the following reasons:
1. Enlarged kidney cysts
Kidney cysts will continue to grow. When the renal cyst grows to a large size, it starts to compress surrounding tissues and organs, including stomach. Bloated stomach is a common complication in kidney cyst.
2. Fluid retention
Enlarged kidney cysts will oppress kidneys and cause kidneys lack of oxygen and blood. Under such a condition, kidneys will be damaged and cannot discharge excessive fluid out of the body. Water retention can spread to any part of your body. If the water retention occurs in stomach, you will see you have bloated stomach.
3. Irritable Bowel Syndrome (IBS)
Irritable Bowel Syndrome is a type of gastrointestinal disorder. IBS symptoms and signs include abdominal pain, discomfort, bloating and alteration of bowel habits.
How to minimize the bloating?
1. Diuretics
Diuretics is effective to remove excessive fluid from the body and relieve symptoms of swelling. This can minimize the bloating to a certain extent.
2. Herbs
Some herbs have properties of diuretics which can increase urine output and discharge excessive fluid out of the body so as to relieve the symptom of stomach bloating. These herbs are dandelion root, nettle leaf, corn silk and so on. However, since every one has different illness condition, patients need to choose right herbal tea according to their own illness conditions.
3. Micro-Chinese Medicine Osmotherapy
This therapy is able to shrink kidney cysts and improve renal function so as to minimize bloated stomach from the root. Patients just need to lie on the bed to take this therapy and two medical fluid bags will be placed under their kidney area. With the osmosis devices, the effective ingredients will come into kidney lesion directly. They can promote blood circulation and improve renal function so as to shrink kidney cysts fundamentally.
If you want to know the detailed information about this therapy, you can leave a message below or send an email to kidneycares@hotmail.com. We will reply you as soon as possible.