Can Ketosteril Help Kidneys to Work Better for Patients with Creatinine 2.6
2015-07-11 09:08
Q:
My father has urination problem, diabetes and high blood pressure. His creatinine is 2.6. I was wondering whether ketosteril can help my father's kidneys to work better or not.
A: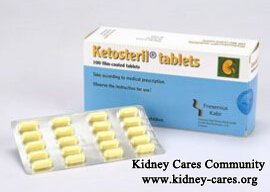 Diabetes and high blood pressure are the leading causes of kidney failure. From the increased creatinine level, we can see that your father's kidneys have been damaged more than 50%. With impaired kidney function, patients are often required to follow a low protein diet. A low protein diet helps reduce protein leakage, decrease blood urea level and protect the remaining kidney function. But as we all know, protein is an important part of our body. If you can not supplement enough protein, your body can not work normally. In such case, Ketosteril can help you a lot, because it can provide your body with essential amino acids. It can also bring you many other health benefits, such as correct the metabolic disorder of calcium and phosphorus, improve endocrine dyscrasia, promote lipid metabolic disorder, etc. From this point of view, ketosteril is very good for kidneys to work better. But it is not enough.
Increased creatinine level results from kidney function impairment, so only when you improve your kidney function can you lower creatinine level from the root. In Traditional Chinese Medicine, there are many therapies to help you, such as Micro-Chinese Medicine Osmotherapy, Medicated Foot Bath, Mai Kang Composition and various Medicinal Soup. They can expand blood vessels to lower blood pressure. They can cleanse the polluted blood to prevent further kidney damage. They can also reduce blood cholesterol level and regulate blood sugar level. Besides, they can inhibit kidney inflammation and stop kidney fibrosis. After a period of treatment, your creatinine level will go down.
Ketosteril may help kidneys to work better, but it is not good enough to repair the damaged kidneys and improve kidney function. For more information about our treatment, please contact online doctor or leave a message below.
Our Treatment Effect
Swelling is an obvious sign of kidney disease.
Move the mouse to enlarge the picture
Look, this patient has severe leg swelling which has made her feel pain and can not get out of the bed. In order to seek better treatment, she came to our hospital for Chinese medicine treatments. 30kg of fluid was removed from her body in less than a month. Her leg swelling disappeared completely. Now you can see her long legs again.
Say goodbye to dialysis
Kidney Disease Treatment - 9 kinds of therapies