Treatment Options for PKD Patients with Creatinine 7.5
2015-06-20 08:42
Q:
I am looking for a treatment plan for my father who is 61 years old and suffering from PKD. Now his creatinine level is 7.5. What kind of treatment options we have?
A: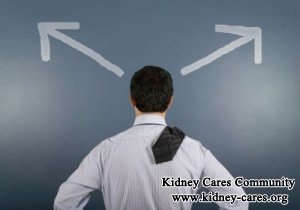 Polycystic Kidney Disease (PKD) is an inherited kidney disease characterized by fluid-filled cysts. With the enlargement of cysts, your kidney function will gradually decline. Creatinine is an indicator of kidney function. Now your father's creatinine is as high as 7.5, which is far beyond the normal creatinine level (0.5-1.2 mg/dL). It means the kidneys have been severely damaged.
Kidney replacement treatment
Generally speaking, when creatinine level is 6-7, dialysis is recommended. Because with high creatinine level, patients will have a lot of body malaise. Dialysis can help them cleanse the waste products from the blood to relieve those discomforts. But long-term dialysis has many side effects and complications. And it can not stop the growth of cysts. When the kidneys are very big, you may have to remove them from your body and then you have to live on dialysis in the remaining years.
Kidney transplant is also a common used kidney replacement for kidney failure patients. Compared with dialysis, it may be a good choice for PKD patients, because it can improve kidney function. But after transplant, you have to take immunosuppressants to prevent rejection. Those medications may impair your immune system so as to expose you to various diseases.
Treatment to improve kidney function and shrink the cysts
Though your father's disease is very severe, it is possible to help him regain some kidney function by shrinking the cysts. In Traditional Chinese Medicine, there are many therapies, one of which is Micro-Chinese Medicine Osmotherapy. It can inhibit the abnormal proliferation of renal tubule epithelial cells and the secretion of lining cells to stop the growth of cysts. It can also increase the permeability of cyst wall and speed up blood circulation in the cyst wall so that cyst fluid can flow out into blood. As a result, cysts become small. Mai Kang Composition, Medicated Foot Bath and various medicinal soup are also often used together with Micro-Chinese Medicine Osmotherapy to help the damaged kidneys to repair themselves. With the improvement of kidney function, creatinine level will gradually decline.
The above information is a brief introduction to the treatment for PKD patients with creatinine 7.5. If you want to acquire a personalized treatment plan, please send medical test report to kidneycares@hotmail.com. After analyzing your case, our doctor will contact you.