A: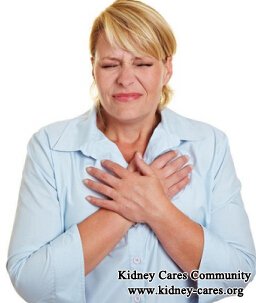 Polycystic Kidney Disease (PKD) is an inherited kidney disease characterized by fluid-filled cysts. With time going, cysts become bigger and bigger, which can cause damage to the other organs around so as to cause many symptoms and complications. Hard to breath is one of them. Many factors can cause it. Now let's have a quick look.
-Anemia
Anemia is a common complication of kidney disease. When you are on dialysis, anemia will become worse, because the damaged kidneys gradually lose their ability in secreting erythropoietin to make red blood cells. When there are not enough red blood cells to transport oxygen, you feel shortness of breath. In such case, you should take EPO and iron tablets to improve anemia.
-Heart failure
Dialysis can help you cleanse the blood and maintain your life, but it has many side effects and complications, one of which is heart failure. It can make you difficult in breath as well. If so, you should talk with your doctor to take measures early in case that it threatens your life.
-Side effects of medications
In order to have a good control of your kidney disease, you have to take various medications. Some of them such as Basiliximab may cause shortness of breath if you eat them for long term. If so, you may have to change them into some natural ones.
-Low blood pressure
Low blood pressure often occurs when you are on dialysis. It is also a common contributor of shortness of breath.
There are also some ways to make you feel hard to breath, such as serious fluid retention, metabolic acidosis, low blood pressure, etc. Space limited, so we do not explain them one by one. Since you are in stage 5 PKD, the cysts must be very big. To reduce those symptoms and complications and avoid dialysis, you should shrink those cysts timely. 4M treatment (Micro-Chinese Medicine Osmotherapy, Medicated Foot Bath, Mai Kang Composition and various medicinal soup) may be a good choice for you. If you are interested in this treatment, please leave a message below or send emails to kidneycares@hotmail.com.